People Counter | People Counting for Retailers | Visitor Counting
FootfallCam offer people counting solution for retailers to understand the number of visitors that enter their store, with people counters, users can review their store performance.
"We need to have an accurate method of tracking our visitors across all the different resources we provide. We want to be able to gauge the usage of each facility and allocate our funding accordingly."
Paul Smith, Head of Acquisitions – Chandler Library
People Counting System for Libraries
Libraries provide their visitors with the resources, programs, and space that they need in order to learn, work, and thrive. As these facilities serve the wider community and rely on government funding, libraries often face the challenge of having to demonstrate the usage of their resources to justify further funding. On top of this, there is increased pressure on these facilities to meet Government requirements for COVID-19, to set a leading example for other businesses.
FootfallCam provides an affordable, automated and easy-to-use people counting solution, where libraries can access numerous reports to gain insights into their visitor count, and in turn make informed business decisions. Libraries can have access to new visitor data, providing hard evidence that is needed to be able to quantify the usage of their facilities. FootfallCam people counters use 3D stereoscopic vision in order to create a depth map, allowing the cameras to differentiate between objects and patrons. This technology combined with WiFi tracking provides deep data insights and high accuracy counting, for results that businesses can rely on.
Use Cases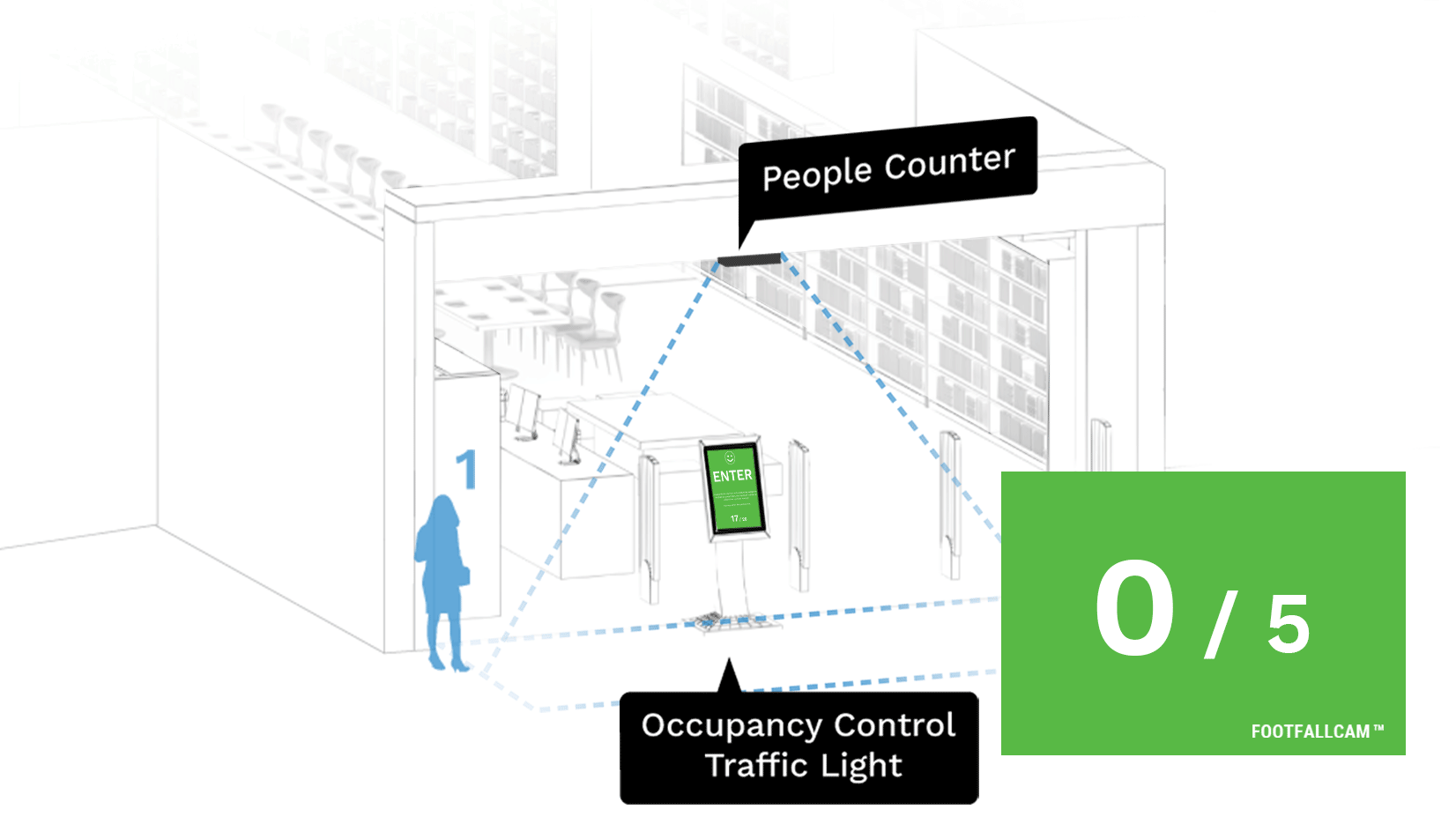 Maintain a SafeOccupancy
Since the outbreak of COVID-19, businesses and public venues are now required to put in measures for safe social distancing, to help keep employees and visitors safe. SafeOccupancy is an automated occupancy control system, created to assist managing the flow of footfall entering and navigating a building.
Keep occupants safe by informing patrons and employees of whether a space is safe to enter using the software's built-in traffic light system.
Stay alert by notifying library staff and management when a specified area capacity is close to or has been breached via smartphone notifications, advising them to intervene.
Protect your library by automatically locking doors once a capacity has been reached, providing greater control over the building's intake and traffic flow.
Rather than spending money on security or reallocating floor staff, management can rely on an automated system to help maintain a safe working environment, and use the savings from staff costs to improve on their services.
Understand Your Visitors
Gain access to footfall data and evaluate patron behaviour, through visitor count, dwell time, returning patron, amongst other metrics. By gaining insight to patron behaviour and identifying peak/off-peak times, libraries can:
Offer services accordingly and accommodate for the local demand.
Provide facilities and resources based upon usage and popularity.
Optimise advertising and marketing campaigns to target audiences more effectively.
Understand patron loyalty and make informed decisions moving forward.
Data can be accessed through the dashboard and generated into custom reports, enabling deeper analysis of the library's footfall performance.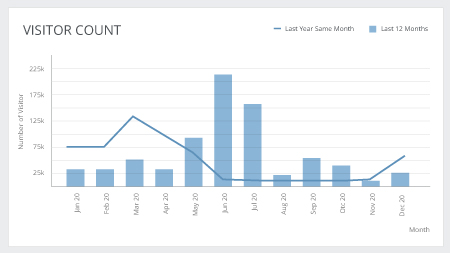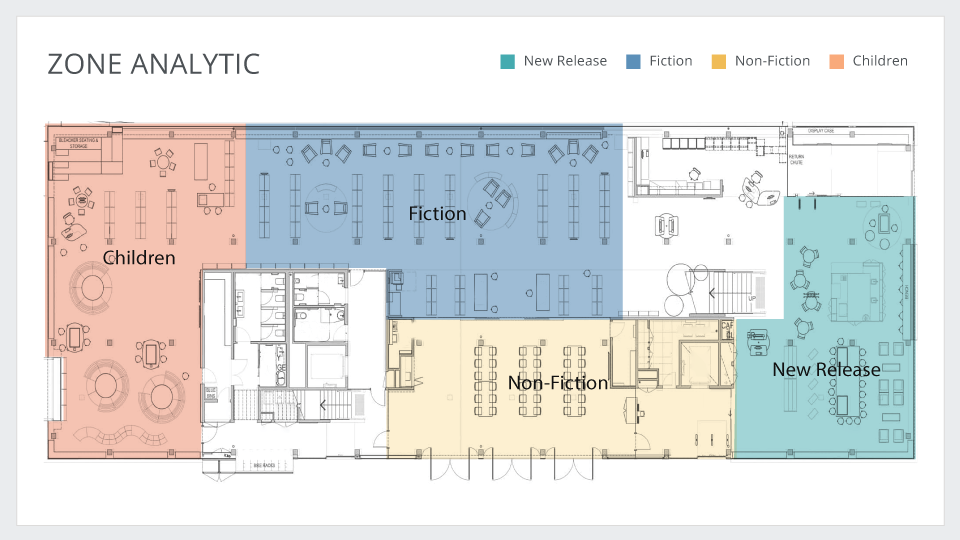 Justify More Funding
As libraries are typically government funded, it can be hard to justify the need for additional resources or financing. With increased demand for STEM learning resources, and with many other venues beginning to appeal as places to work or study, a library must stay up-to-date in order to compete. This may require a refresh in the computer department, or a complete refurbishment, where funding will be needed.
Generate custom reports to show footfall trends over days, weeks, months or years.
Automatically share statistics with third parties with the email scheduling toolkit.
Utilise footfall trends to justify reasoning behind future developments.
Footfall data provides undeniable evidence of usage, where libraries can demonstrate the popularity of their facilities to their sources of funding.
Measure Event Effectiveness
Event success can be hard to monitor, especially for those that don't require a ticket to attend. Gaining customer feedback at the event and through online surveys provides valuable information, but what really determines the popularity of an event is an increase in footfall.
Footfall trend reports combined with our integrated Campaign Tracker toolkit allows staff to see which events are performing well and which aren't, as well as identify demographics to target.
Make informed decisions on how to run events in the future based on footfall analytics.
Compare visitor behaviours before, during and after a campaign or event to see how well it has performed.
Focus your efforts by allocating resources and space effectively using this information.
Insights like these can help predict future trends and plan accordingly, enabling libraries to make informed decisions for targeted marketing, resource allocation and future developments, based on hard data.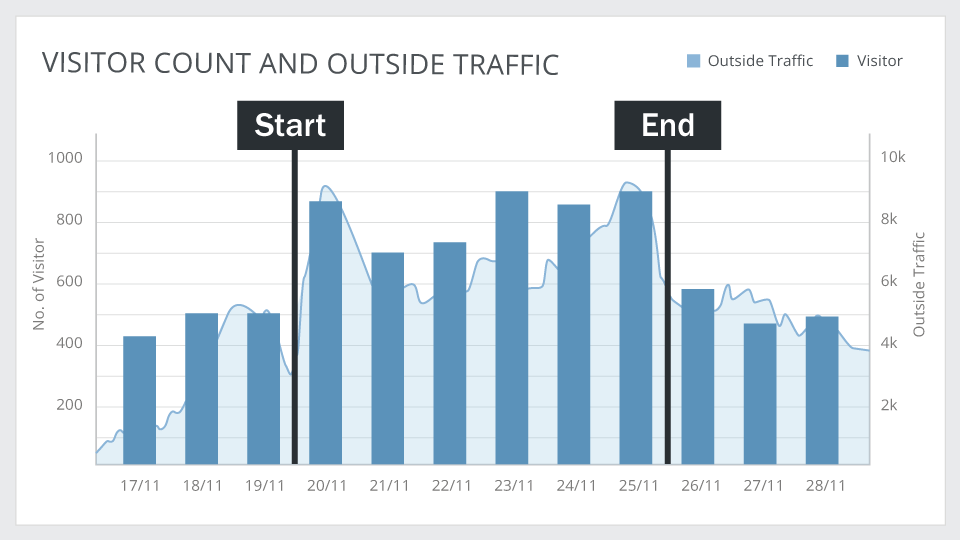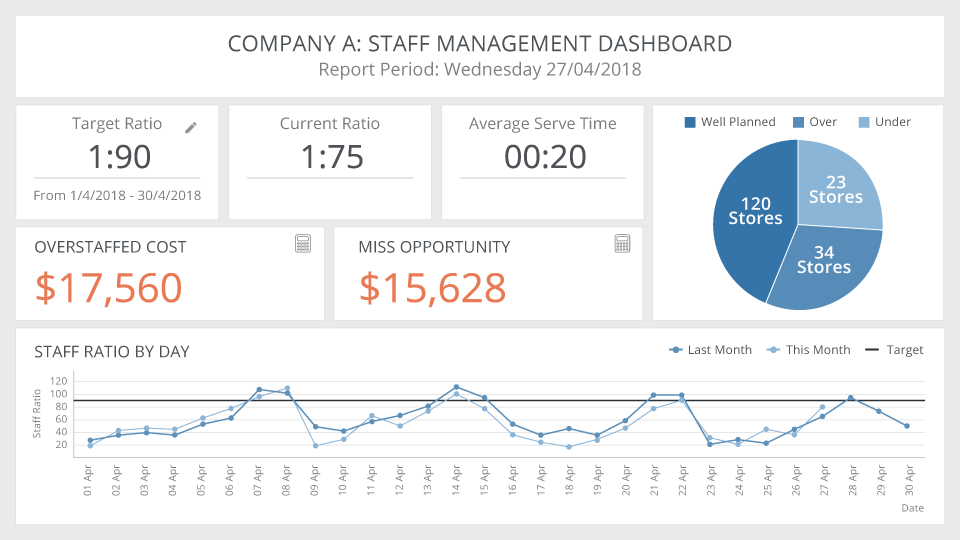 Allocate Staff Efficiently
Understanding the daily trends of footfall can help to reduce costs, where forecasting future traffic allows for the optimisation of staff scheduling and resource management.
Optimise staff rosters by using real-time insights and historical trends to allocate staff.
Obtain greater budget flexibility by saving costs on unnecessary staffing on days with lower footfall.
Meet the local demand by using insights and ensure the right staff are present for particular events.
Using footfall analysis can help libraries to ensure that they are not overstaffed unnecessarily, or under-resourced when they need it.
Cross-Site Visitor Tracking
For businesses with multiple locations, FootfallCam people counters can track returning visitors across all branches. By using WiFi tracking, FootfallCam people counters can:
Check site performance by comparing how often patrons use different libraries in the area.
Gain insights into patron loyalty and make informed decisions for targeting new audiences.
Streamline library services across sites based on footfall trends, for particular events or classes.
Since councils typically manage multiple libraries, understanding how patrons utilise the services available across a province can help to better allocate resources and funding.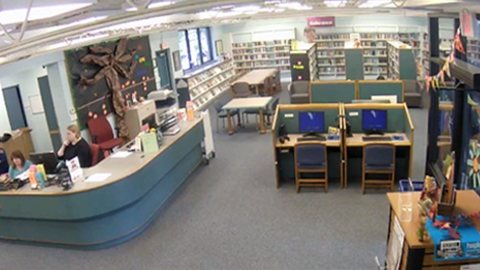 Traffic counter | People Counter | Conversion counter
Measures the number of visitors that enter your store with FootfallCam people counter to make data-centric decisions and optimise sales conversion.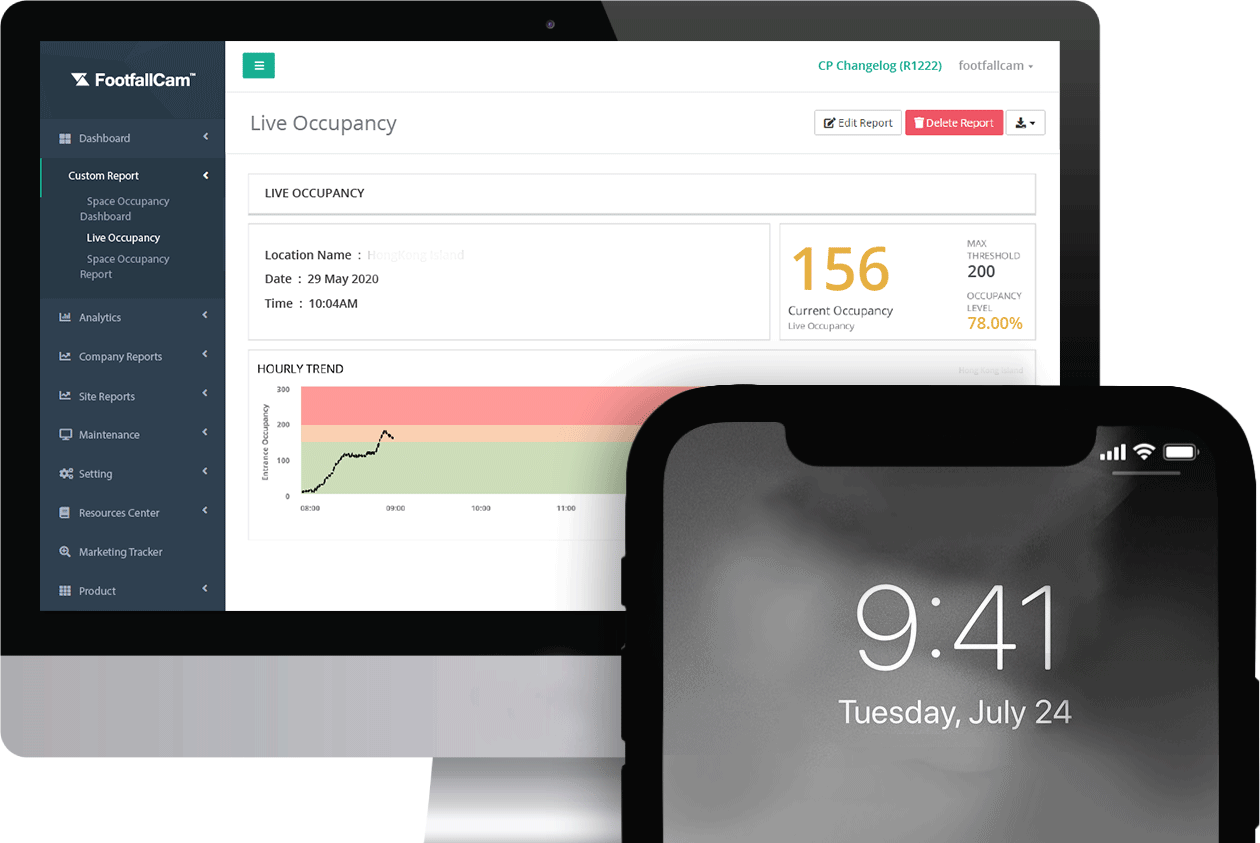 SafeOccupancy™
SafeOccupancy is designed to help manage the flow of traffic alongside staff efforts, helping keep businesses safe. It utilises the FootfallCam 3D MAX people counter to monitor the live occupancy of a building or area, providing libraries with more control over their premises.
Login to the online dashboard to access real-time monitoring that shows the visitor count throughout the day.
Set a maximum capacity threshold for a specific room or area to ensure that it doesn't become overcrowded and unsafe.
Alert staff via smartphone notifications when the premises is close to reaching maximum capacity, allowing them to focus on other tasks.
Show the live occupancy to visitors using a traffic-light indicator, which can be displayed at the entrance on a computer, tablet or browser-enabled display.
Display a live widget on the library website to inform visitors of the occupancy in real-time.
Automatically lock doors when a maximum capacity has been reached, preventing further overcrowding. For more information on this feature, please refer to the FootfallCam 3D MAX product page.
Patron Counting
People counting is used to understand more about visitors, where understanding an audience can help a business reach new customers. Footfall data is collected in the following forms:
Visitor Count - The number of people that enter the premises.
Outside Traffic - The total number of people that walk near the entrance.
Turn-In Rate - The conversion rate of outside traffic that enters the building.
Dwell Time - How long visitors spend onsite before leaving.
Return Count - The number of visitors that return after their first visit.
This data is then aggregated on the counter itself before being sent to FootfallCam's cloud-based software; Analytics Manager V8. Here, users have access to:
Staff Dashboard - For quick insights into footfall data for a set period, whether that be a day, week or month.
Ad Hoc Analytics - Overall records of footfall data for one site or many, allowing users to see the trends across different times. Dive deep into data and plan based on evidence.
Footfall Reports - To share with third parties or to hold as records, allowing businesses to keep a track of how footfall varies over time.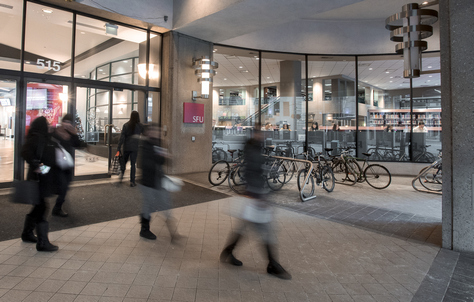 Demographic Insight
Having an understanding of a business' audience is essential for effective marketing and for reaching new clientele, particularly when it comes to demographics. By using depth mapping technology, FootfallCam 3D Max is able to measure the different heights of people passing underneath, and discern between humans and objects.
This allows the camera to differentiate the count of:
And also excludes the count of objects such as trolleys, buggies or pushchairs.
Knowing who is currently being attracted will help to prioritise who to target in advertising, as well as who to accommodate with resources.
Event Tracker
FootfallCam Analytics Manager V8™ comes equipped with the Campaign Tracker toolkit, allowing businesses to monitor the variation in footfall across an event.
From the marketing campaign through to post-event, track the visitor count and gain a real insight into performance.
Seeing an increase in footfall during and after an event is evidence of a successful campaign, whereas a decrease suggests that the target audience was not interested.
Libraries can use these insights to make informed decisions on whether to repeat, improve or replace a particular event, or strategy.
Insights like these can help predict future trends and plan accordingly, enabling libraries to make informed decisions for targeted marketing, resource allocation and future developments, based on hard data.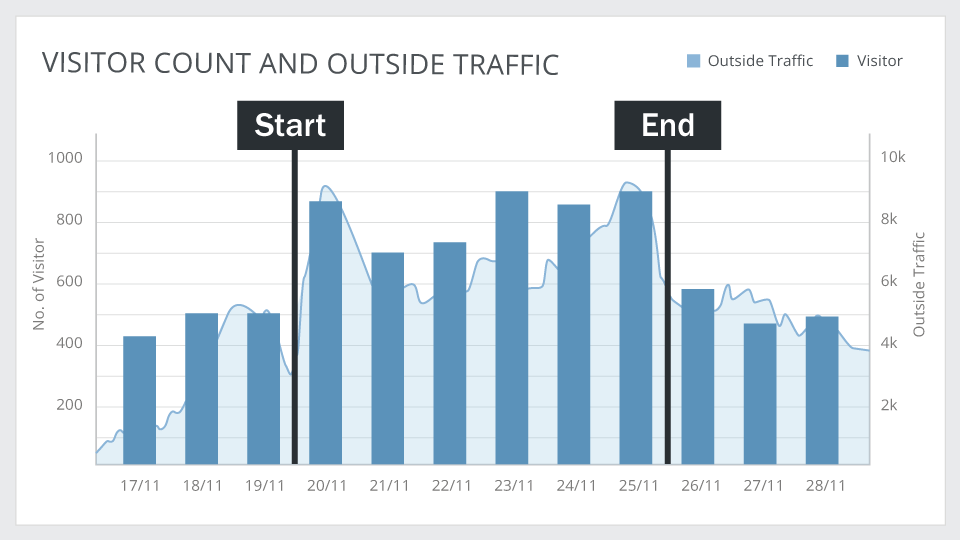 Fully Automated System
FootfallCam people counters operate on a fully automated system architecture, meaning that businesses can optimise their operations and focus their efforts elsewhere.
Staff are no longer required to manually count visitors, whilst management can rely on accurate, real-time data to gain insights into their performance.
Automatic health checks and firmware updates keep FootfallCam running at top performance.
Heatmap counter | People counting | In store analysis
Gauge the popularity of different brands within the store to understand different customer segments across different product, so you can gauge consumer behaviour.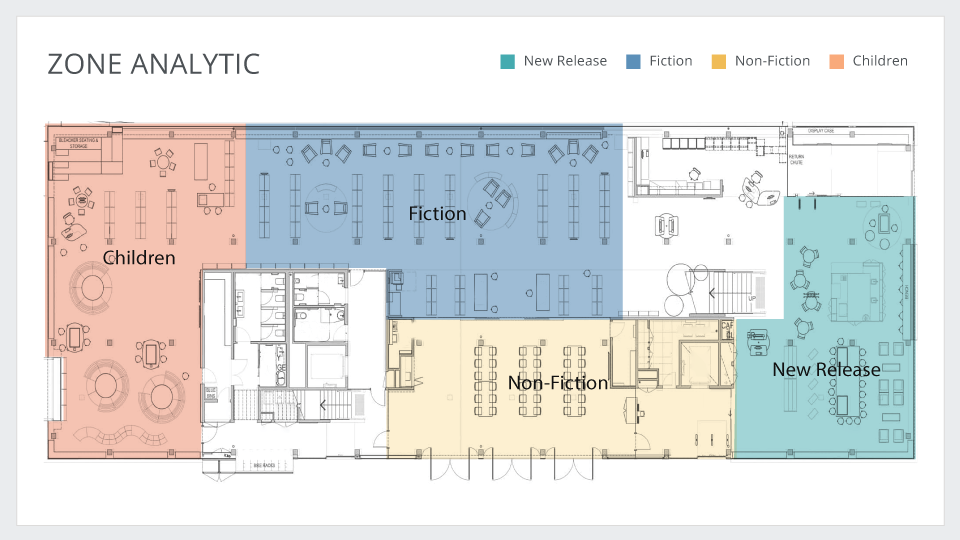 Area Utilisation + Zone Analytics
By knowing the number of visitors that dwell in different areas of a library, management can gain a deeper understanding into zone usage to make informed decisions when improving resource provisions. FootfallCam 3D Max is capable of heat-mapping within its coverage area, providing valuable insights into which areas of the library are used more often
Toilet Management
Installing a FootfallCam sensor above the entrance to a washroom allows libraries to automatically control and regulate the occupancy, both inside and outside of the doorway. Avoid overcrowding by utilising the traffic light system with a tablet or display, letting visitors know when it is safe to enter.
Staff can also tend to washrooms based on usage rather than regular cleaning schedules, where sensors can send an alert once a facility has been used more than a set amount of times. This will help to maximise workforce efficiency and avoid unnecessary cleaning, saving both time and money.
Exclude Library Staff
FootfallCam cameras are able to distinguish employees from visitors by recognising staff exclusion tags, where employees wearing these tags will be deducted from the footfall count as they pass by.
Room and desk booking
Using FootfallCam's Electronic Site Labelling (ESL) solution, libraries can offer a booking service to staff and visitors, allowing patrons to reserve a spot in advance of their visit. Management can place ESL tags on desks or next to doorways to display the availability of the facility, which will automatically update when a booking is made or altered.
Patrons can check in to their reservation by scanning the QR code on the ESL tag, notifying staff of their arrival. This helps to ensure that the facilities on offer are being used, where in the event of a "no-show," libraries have the option of offering the space to other visitors. For more information, please refer to our Desk Booking page.
Shop in shop | Store within a store | People counter
Quantify the number of visitors in your kiosk within a shopping mall or a department store to gauge the popularity of items and shopper engagement.
How it counts- 3D Stereoscopic Video
FootfallCam people counters use 3D depth-mapping technology in order to detect the height of those entering the tracking zone, allowing the camera to ignore objects and just count people. Equipped with a powerful onboard CPU and two wide-angle fisheye lenses, FootfallCam people counters have one of the widest coverage areas in the industry, with the ability to deliver up to 99.5% accuracy.
Wi-Fi Technology
Integrated Wi-Fi Tracking technology enables FootfallCam people counters to capture MAC addresses from the smartphones of visitors and passers-by. This data is collected and stored in order to provide valuable business insights, such as outside traffic and turn-in rate, average customer dwell time and the rate of returning visitors.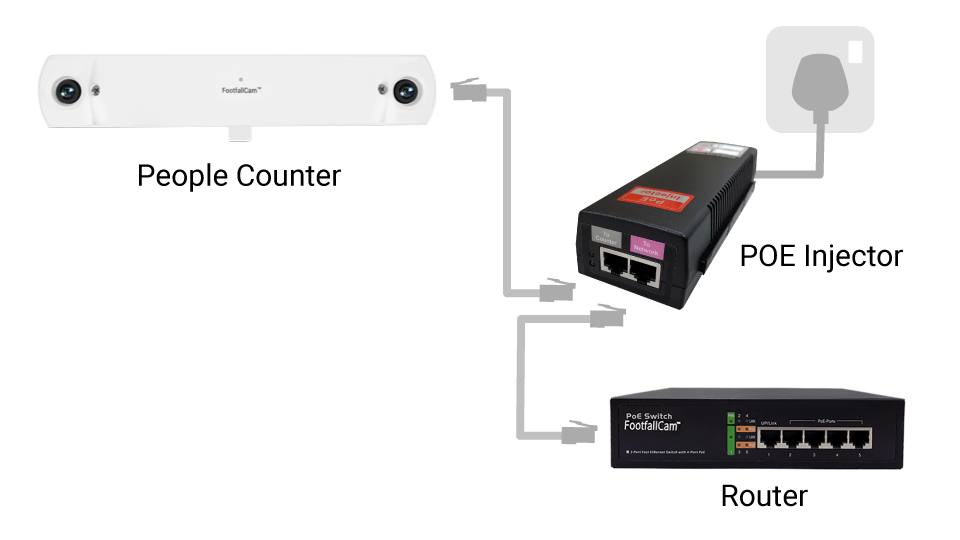 How to install - One-cable installation
FootfallCam people counters are designed to be quick and easy to set up by anyone, even without prior technical knowledge. Every counter is plug-and-play, where all that is needed is one ethernet cable to provide power and internet access. Only two screws are required to secure the camera to a surface, which are included in the box along with all the necessary components to get up and running.
How to connect - Access to internet
Connect the counter to a router with a standard ethernet cable to pair it with our software platform. Alternatively, internet access can also be provided by using a mobile-router with a 3G/4G SIM card.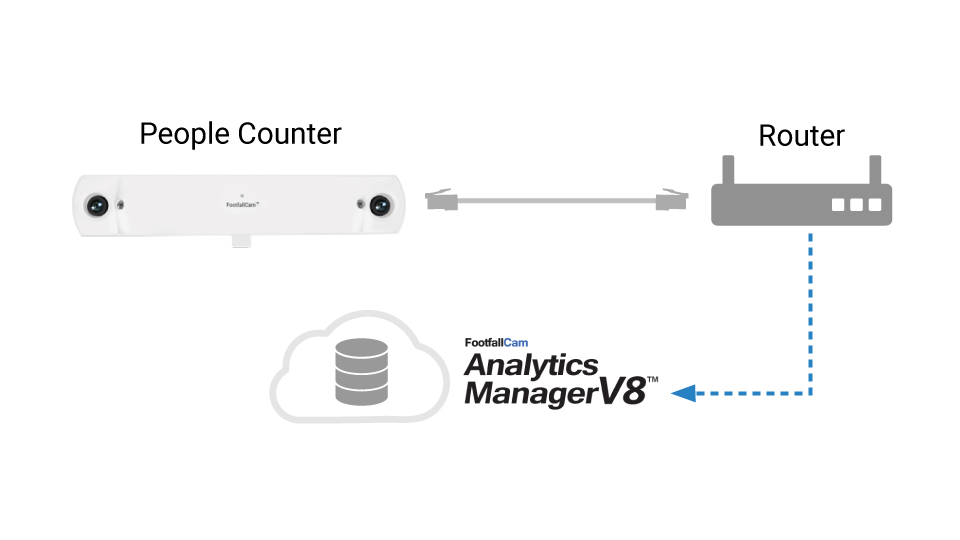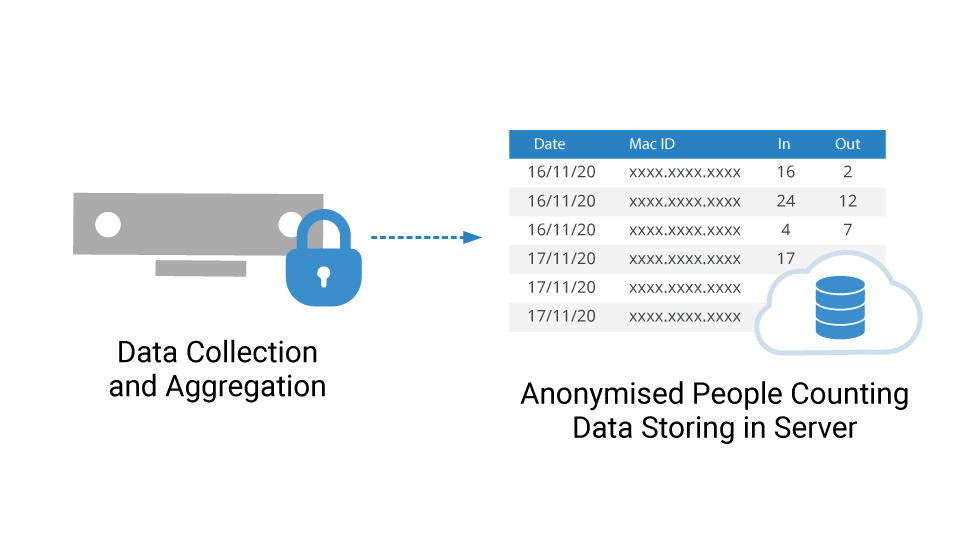 How privacy is maintained - Anonymised data
All FootfallCam data collection is exempt from GDPR regulations through design. By anonymising and aggregating data on the device, no personal identifiable data is ever used or stored
Footfall data is aggregated on the device before it uploads the anonymised data to the cloud. This ensures that no privacy laws are breached and that no security is compromised.
All in One Package
All FootfallCam cameras come with a one-year manufacturer's warranty, installation support and lifetime access to the Analytics Manager V8 cloud-based software platform.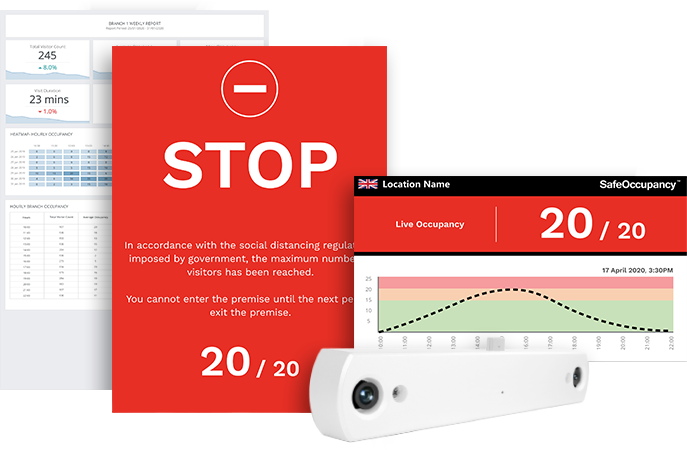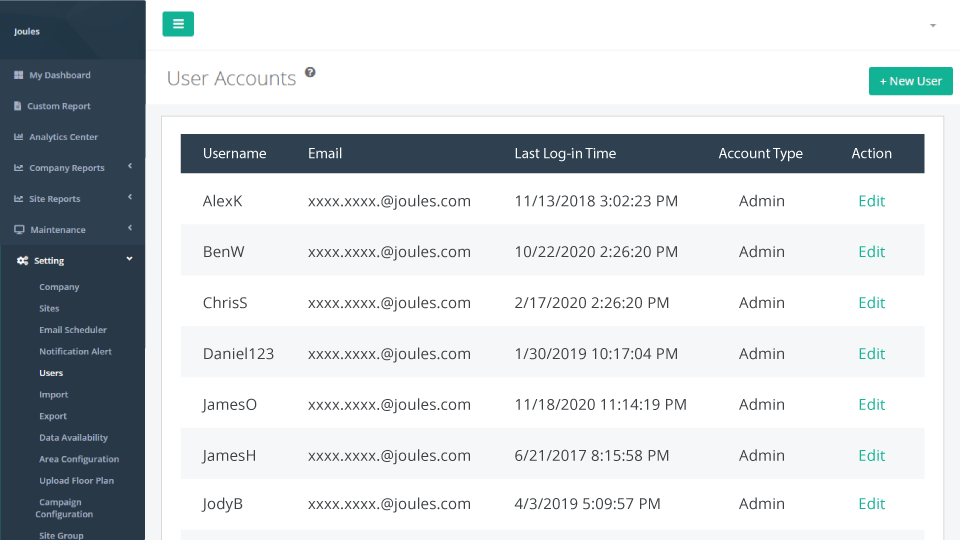 How to manage your system- User and Device Management
Analytics Manager V8 gives users the option of configuring multiple login accounts and permissions, allowing management to allocate access to different members of staff. This means that management can determine who has access to specific site reports, live occupancy and device management, as well as being able to designate a specific employee to have access to the support portal.
People counter | Visitor counting | Retail store sensor
People counter for multiple retail stores offers an intuitive analytic workspace for retailers to calculate and review their sales target.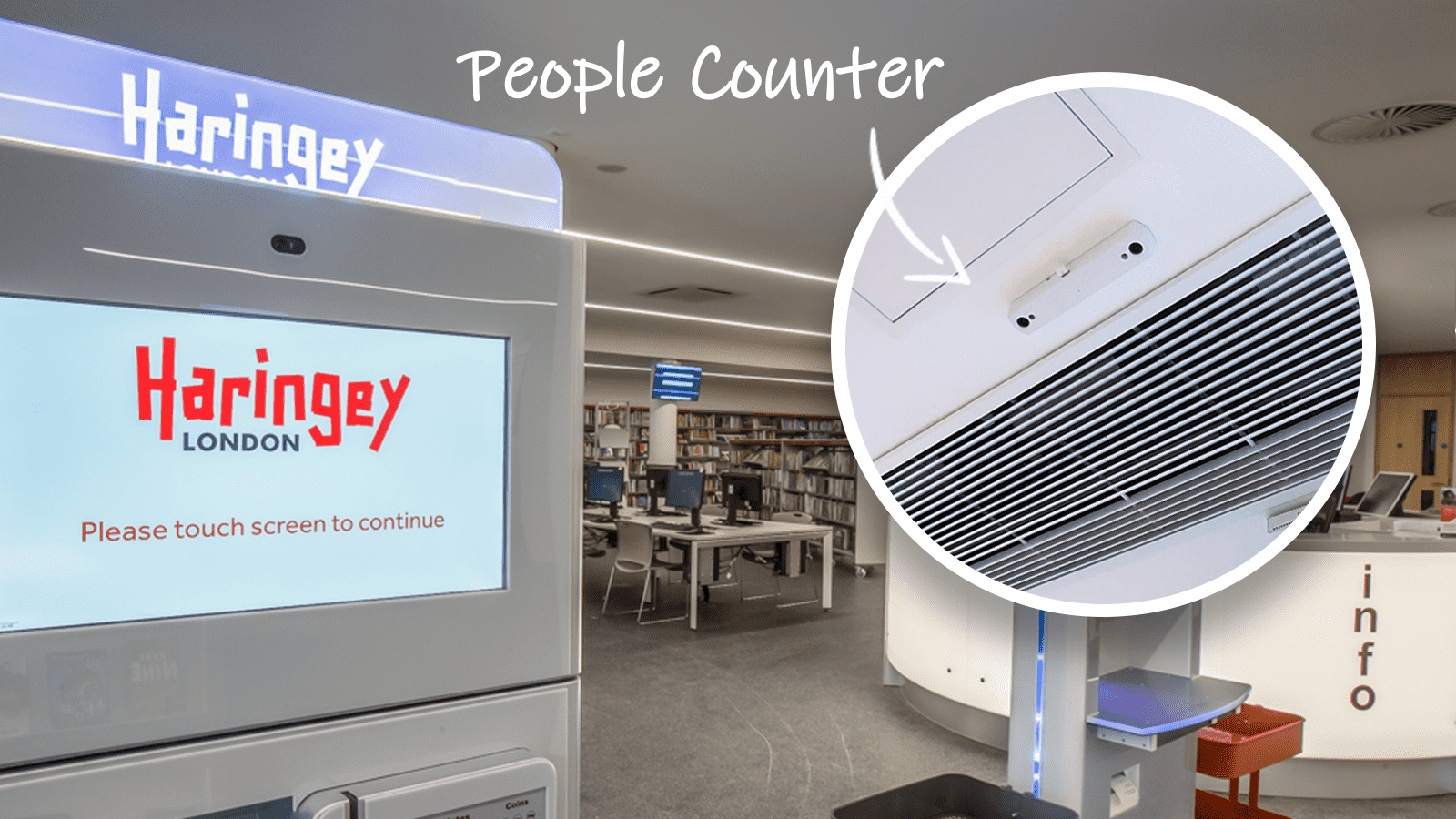 Case study #1 Haringey Libraries
Eight of Haringey's Libraries were undergoing refurbishment which called for the need for a people counting system.
Amongst other competitors, FootfallCam was selected with the awarded marks of 100 (full marks) on product pricing and quality.
To ease the application process for funds and additional resources (eBooks: computers, iPads), FootfallCam has provided them with solid data on:
Traffic flow: How many people are visiting
Facility utilisation: by notifying library staff and management when a specified area capacity is close to or has been breached via smartphone notifications, advising them to intervene.
Cross-site tracking: track the engagement levels of patrons.
Case study #2 Chandler Library
Chandler Library wanted to provide valuable resources and requesting government funding for the latest technologies to attract members of the community.
They faced difficulty as they had no method to determine the number of patrons that visit their library.
With the help of FootfallCam, they were able to make the following cases to administration:
Traffic data: Request for additional staff members by proving that more labour is required using traffic data.
Facility usage: Show that patrons have been using the in-house digital resources and request additional technology.
Resource planning: Place the invested resources at the most frequently visited areas.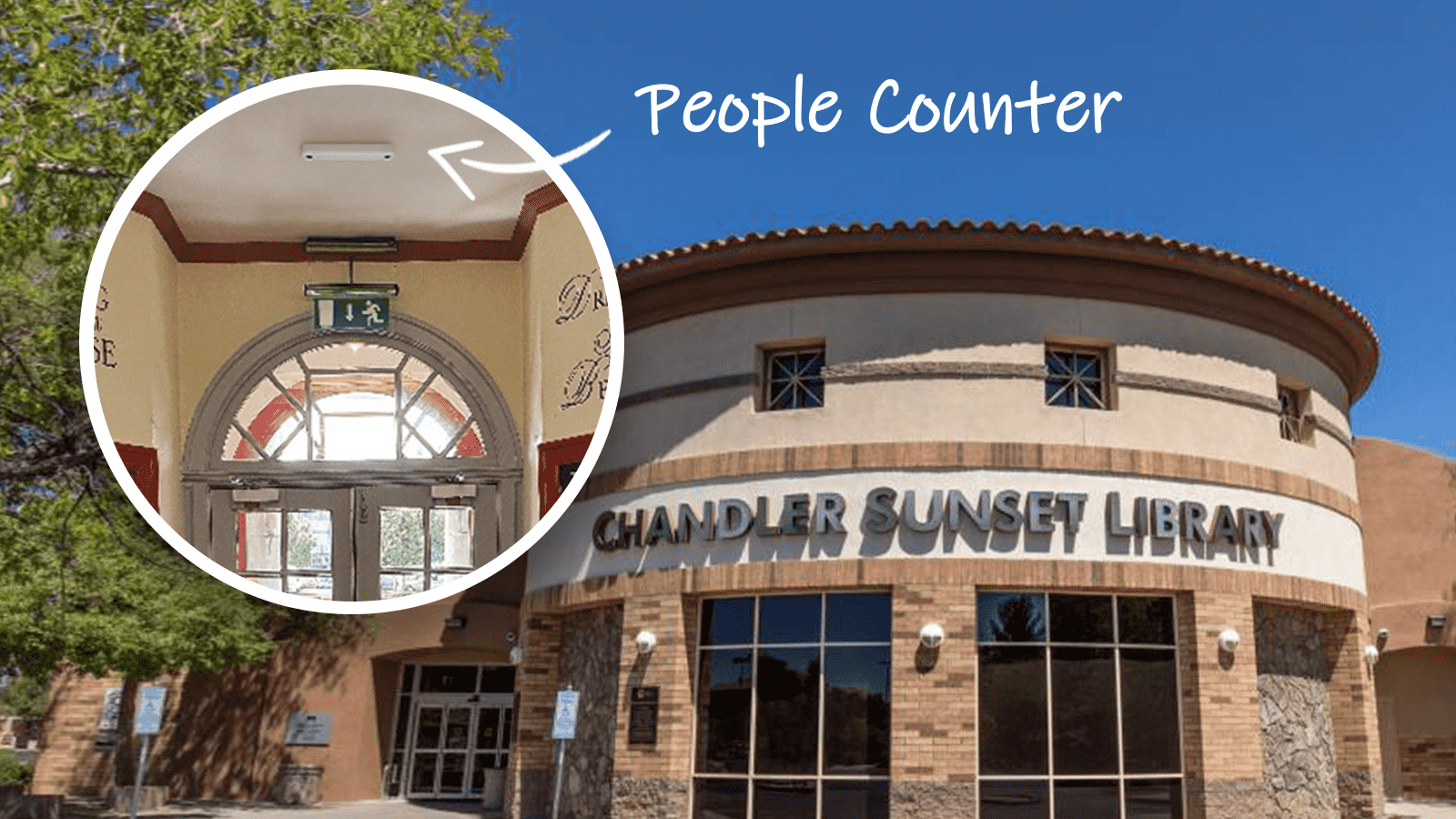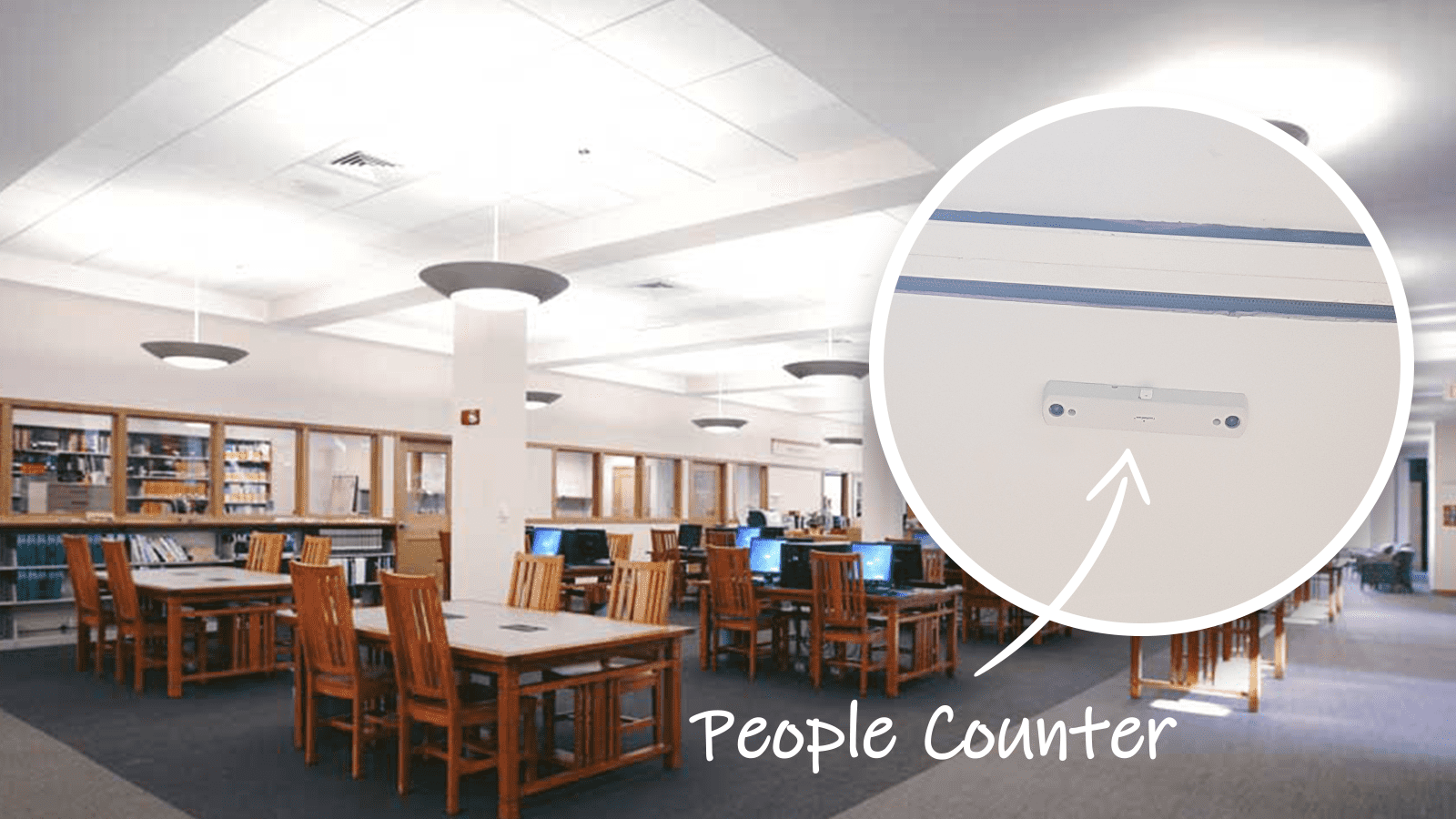 Case study #3 Otis Library
Otis Library is an important community library in the city of Norwich. To better serve their patrons, they wanted to have a clear understanding of their population demographics.
Using FootfallCam's advanced AI video analytics, they were able to differentiate the count of:
With the help of our technology, they were able to target the right audience in their marketing and advertising, boosting their visitor volume and better serving their community.
Case study #4 Innisfil Public Library
Faced with the rise of COVID-19, Innisfil Public Library had to find ways to keep their premises safe.
They needed a reliable and accurate way of managing the flow of traffic into their libraries, while coordinating their staff to control the occupancy effectively.
To do so, they deployed FootfallCam's SafeOccupancy™ solution, which enabled them to:
Show the live occupancy of patrons using a traffic-light indicator at the entrance in real-time
Set a maximum threshold to avoid overcrowding and putting their patrons' and staffs' health at risk
Automatically notify staffs when the occupancy count breaches the set threshold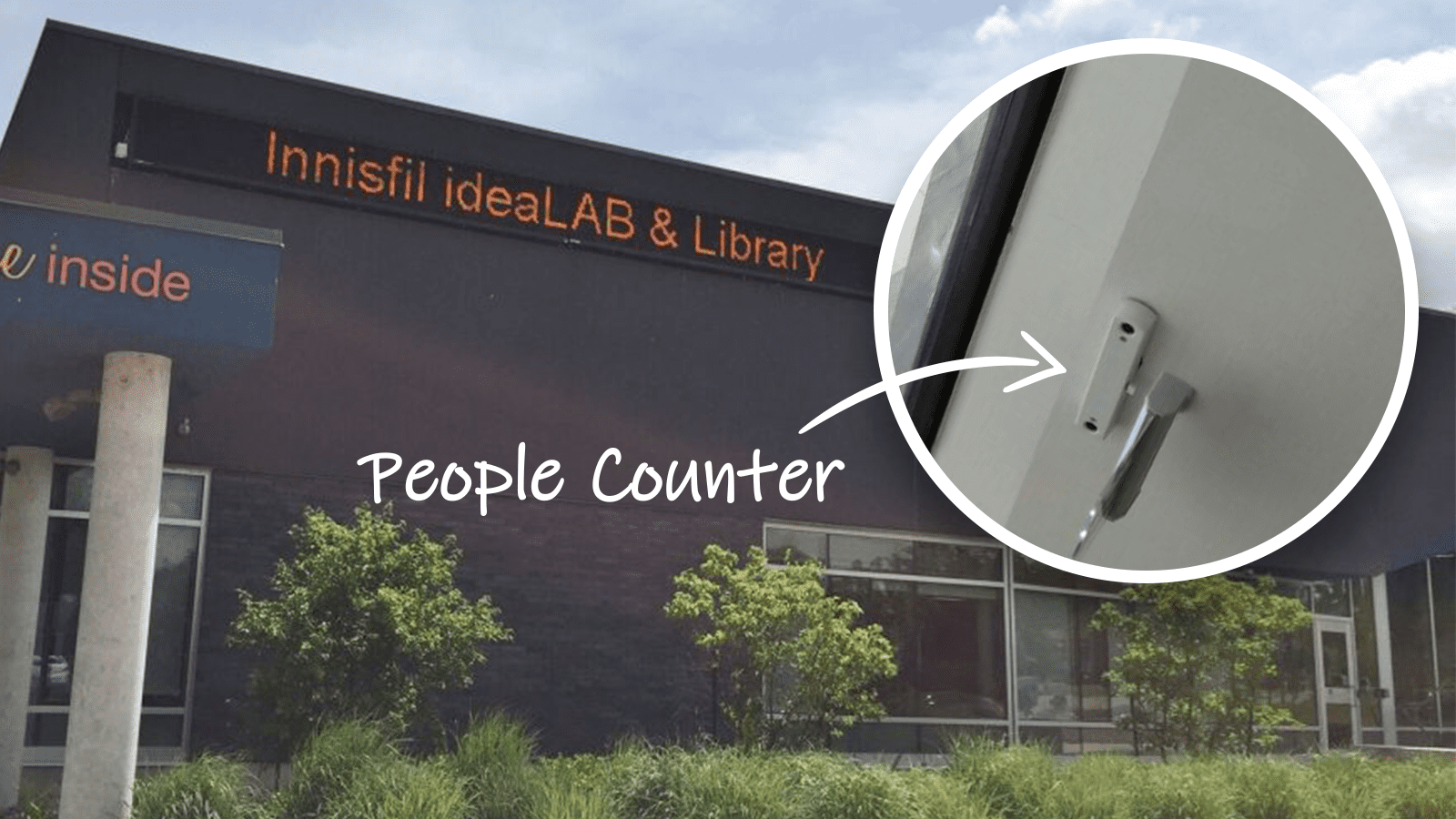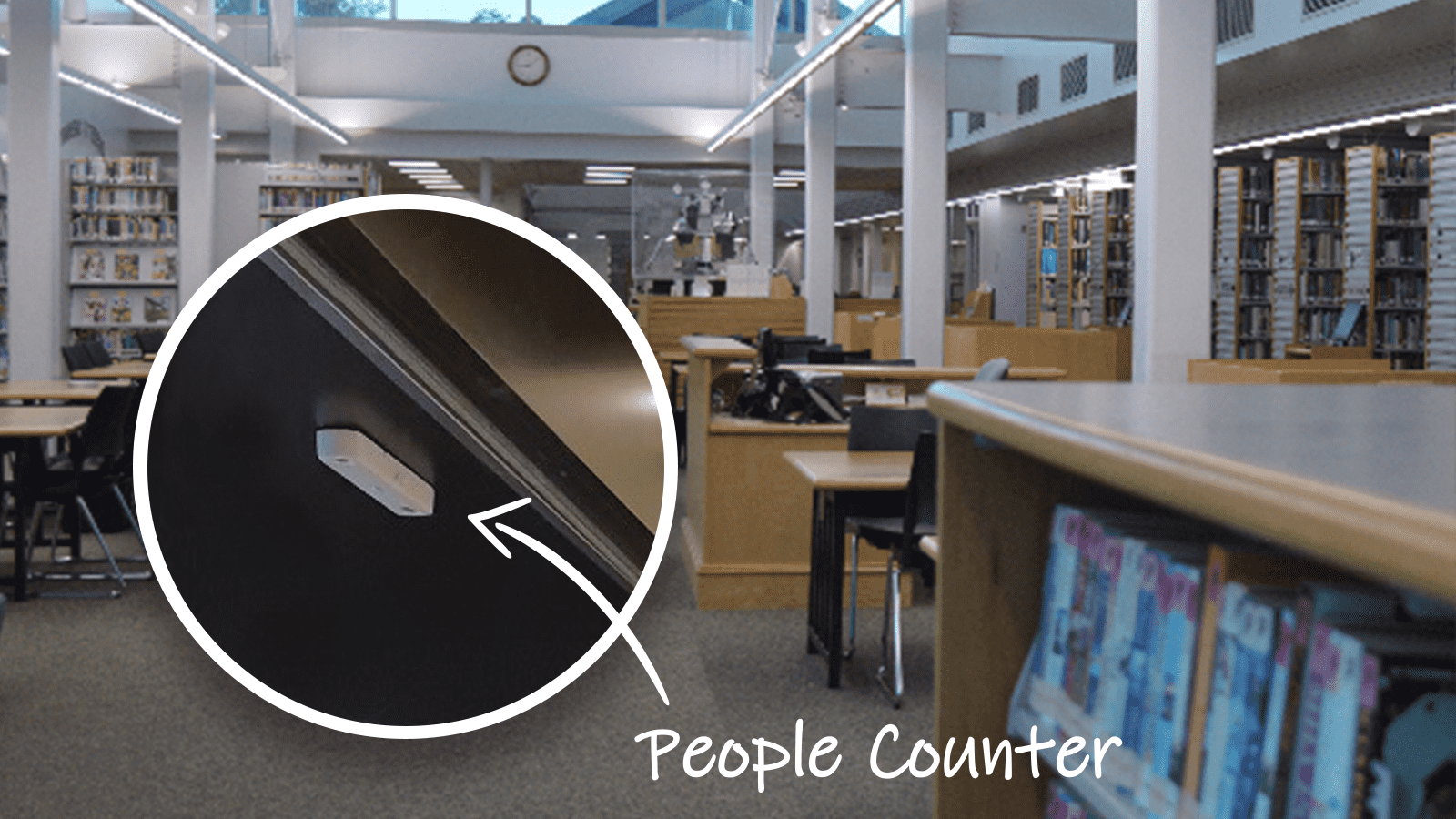 Case study #5 Plainview-Old Bethpage Public Library
Plainview-Old Bethpage Public Library was looking for a reliable method to track their patron's footfall, particularly during marketing campaigns in the library.
Using the Campaign Tracker toolkit, the library's management could effectively monitor the variation in footfall in the following:
Tracking the difference in visitor count before and after event
Determining the success of a campaign based on the increase/decrease in footfall during and after event
Decided whether to repeat, improve, or replace their existing marketing strategy
The library was able to make informed and intelligent data-driven decisions for targeted marketing, resource allocation, and future developments.
Case study #6 Calcasieu Parish Public Library
Established since 1901, Calcasieu Parish Public Library wanted to have a deeper understanding how their patrons use the different zones.
By installing people counters in each area of the library, they were able to determine the number of visitors that dwell in different areas of the library.
As a result, the management can:
Make informed decisions when improving resource provisions
Allocate appropriate manpower to each area based on the patrons' usage in different zones
Understand patron's behaviouraccording to the popularity of each area (ie. children, fiction, non-fiction, new releases, etc.)