People Counter | Smart Bus Sensor | Passenger Counting System
FootfallCam smart workplpace sensor tracks and monitors building occupancy to optimise facility management and space utilisation.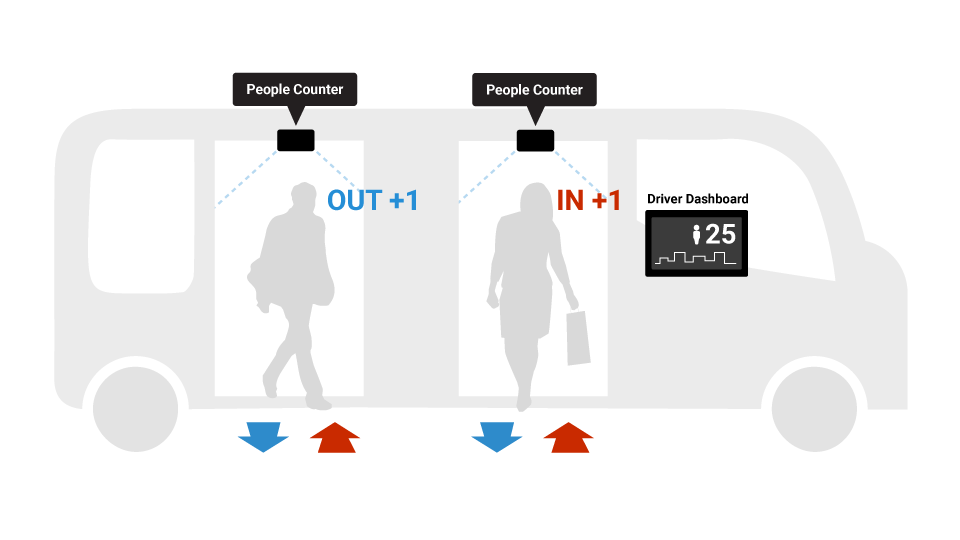 FootfallCam Passenger Counting System
By installing FootfallCam people counters at the bus entrances, bus operators will have visibility on:
Passenger IN & OUT Count
Bus Occupancy at any time
Watch Video
Your browser does not support the video tag.
Why Passenger Counting for Buses?
Traditional Bus Operations Management is often manual and non-analytics-based. This creates pain points for bus operators as they lack concrete data to make informed business decisions.
With our Smart Bus Solution, FootfallCam is able to provide passenger counting data that will help bus services companies achieve:
Visibility on real-time occupancy
Maximise the utilisation of each bus
Reduce cost by having effective bus route planning
Enhance passenger experience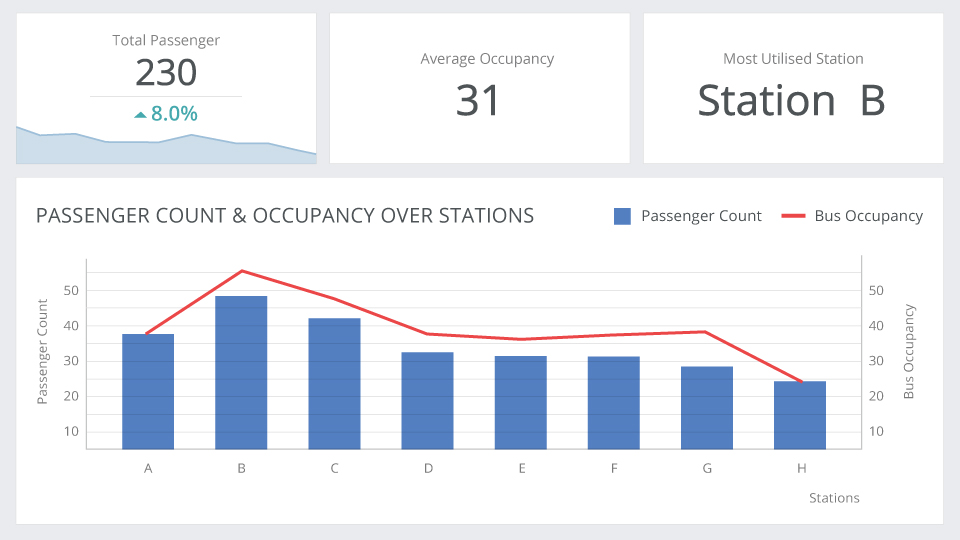 Gain a Company Overview on Passenger count
A centralised view to assess the performance of all the routes in the company.
Which routes have the highest and lowest passenger activity?
Are the routes over or under performing against the company's KPI in terms of passenger counts?
Understand Passengers' usage of Stations and Trips
Drill down to Route-Level data and analyse passenger count for trips and stations within each route.
Which part of the route is busy or under-utilised?
At which point of the route do most passengers enter/exit the bus?
Can the frequency of bus trips cope with the demand?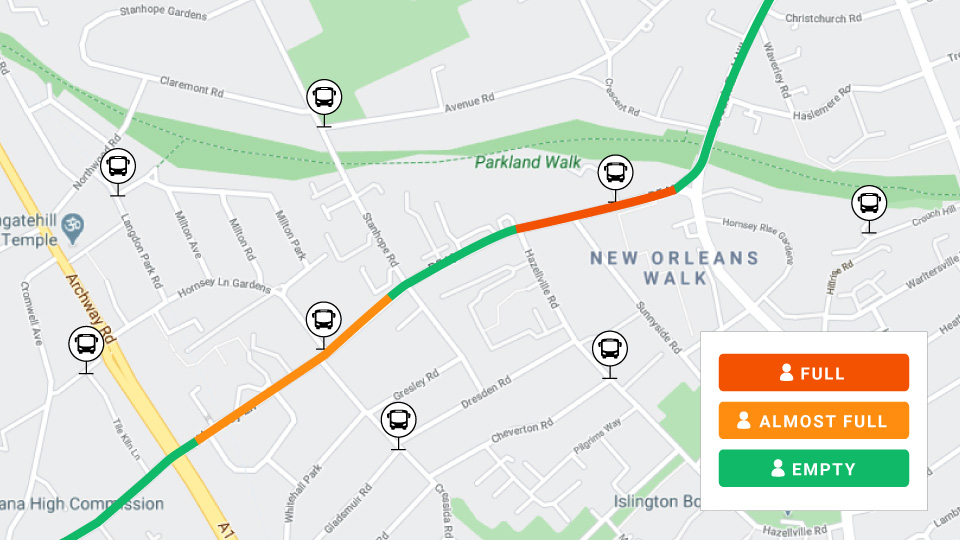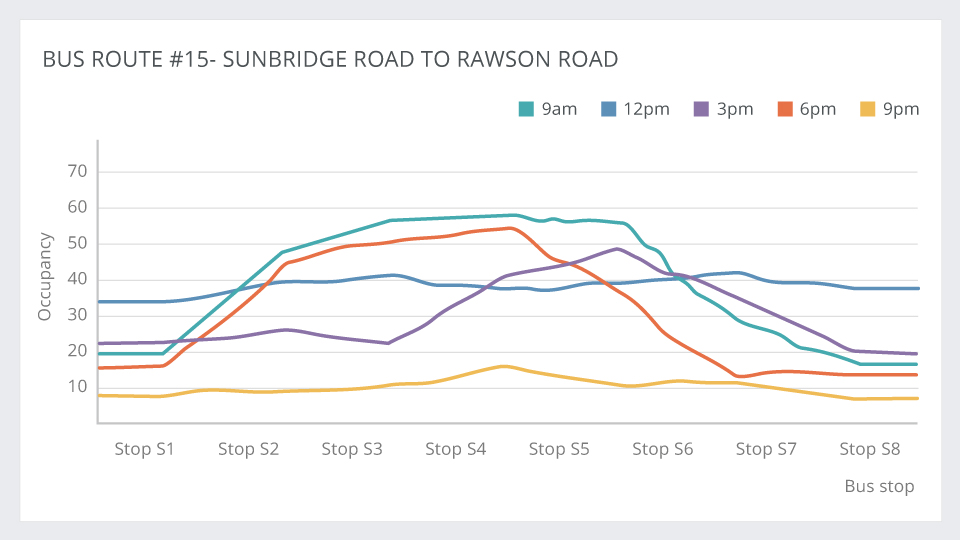 Analyse Bus Occupancy over time
Drill further down to the smallest granularity to assess passenger activity per bus trip.
When are the peak hours?
How often does passenger counts exceed the maximum seating capacity?
People Counter | Smart Bus Sensor | Passenger Counting System
Gauge the number of visitors in each meeting room with FootfallCam people counting device, to visualise peak hours of the hall and compare traffic across campaigns.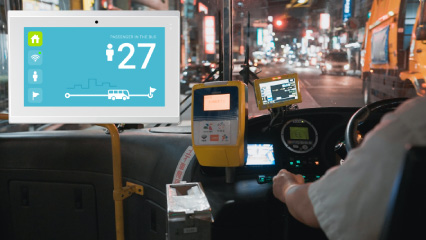 Monitor Bus Occupancy in Real Time
Using technology to help ensure that the number of passengers does not exceed the capacity limit.
Measure live occupancy of the bus via people counters
Above 95% accuracy with 3D stereoscopic video technology
Automatically stop counting when doors are closed for noise prevention using GPIO function
Occupancy Dashboard for Bus Control Centre
Ensure frequency of bus rides can cope with real-time passenger demand
Receive alert when routes are over-utilized
Bus operator can assign more buses to highly-occupied routes
Reduce the possibility of full/overcrowded buses for better passenger experience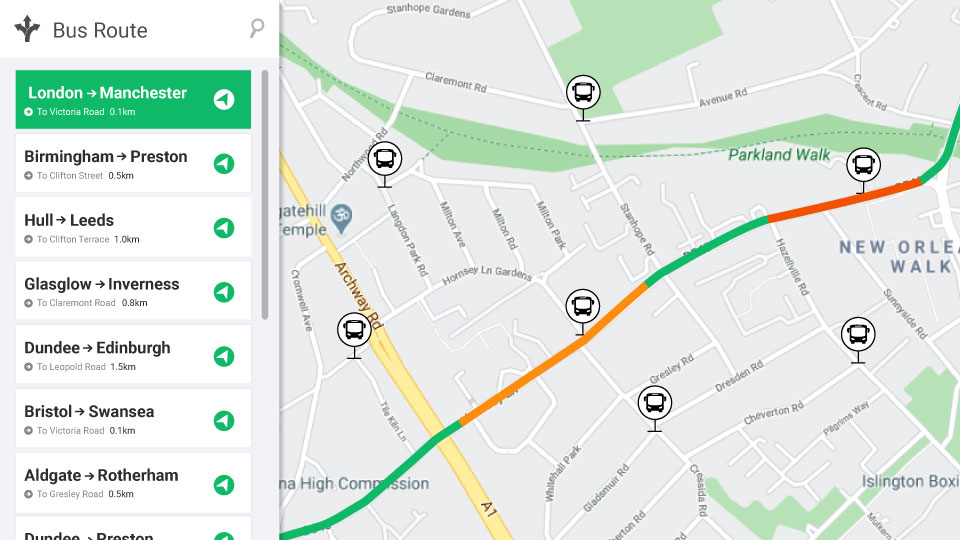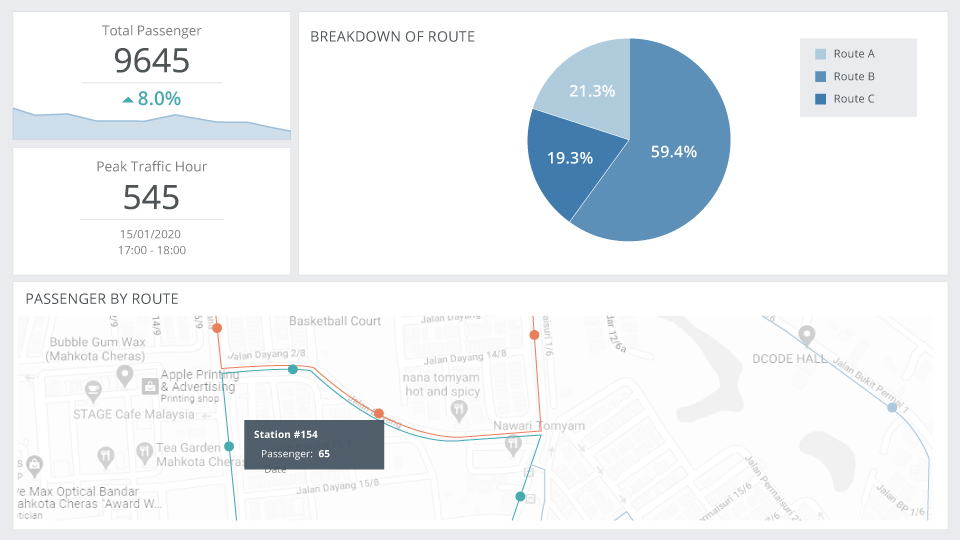 Occupancy Reports for Management
Clear insight into occupancy trends based on historical data for better bus service planning.
Management can view the occupancy reports on
Company-level
Route-level
Bus-level
Identify key trends and make informed decisions:
E.g. Optimise Route Planning by knowing which part of the route is busy or under-utilised
E.g. Optimise Allocation of Resources by knowing when are the peak periods
Audit Ticketing Sales Data
Identify any significant discrepancies between ticket sales and actual passenger count.
Prevent drivers from falsifying ticket sales
Analyse statistics on amount of no-show passengers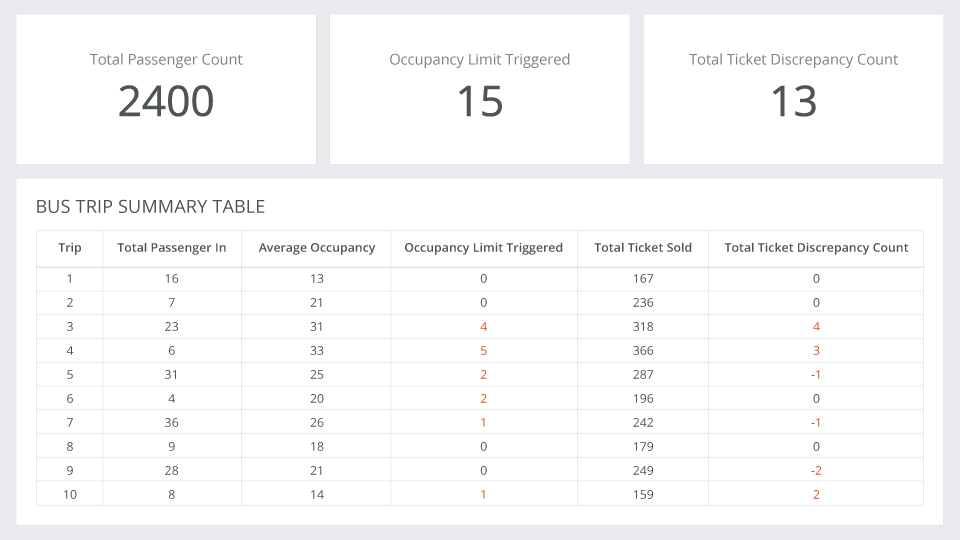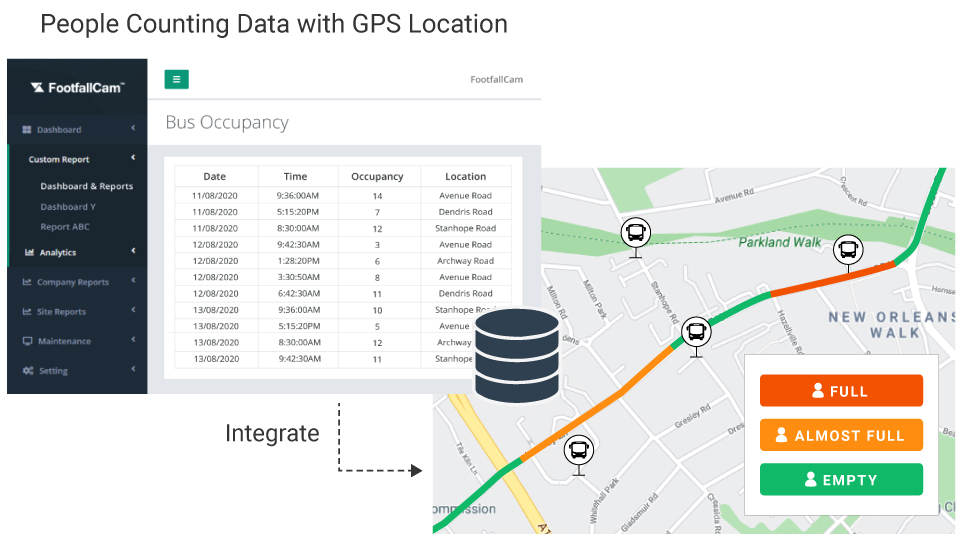 Integrated with fleet management system
Input passenger counting data into your own system to facilitate fleet management & planning.
FootfallCam provides API integration services by experienced specialist
Gain passenger counting analytics without the need of a separate system
Integrate with your Bus ETA App
Input passenger counting data into your own Application to improve customers' experience in journey planning
Passengers have easy access to the Occupancy level for each bus
Help passengers to pre-plan their journey better based on the information displayed, such as:
Occupancy Level
ETA
Current Location of Buses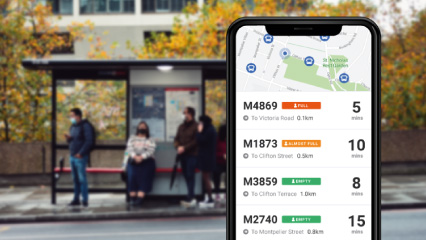 People Counter | Smart Bus Sensor | Passenger Counting System
Understand the distribution of visitors throughout the smart office with 3D people counter, such as a conference room and office usage.
System Design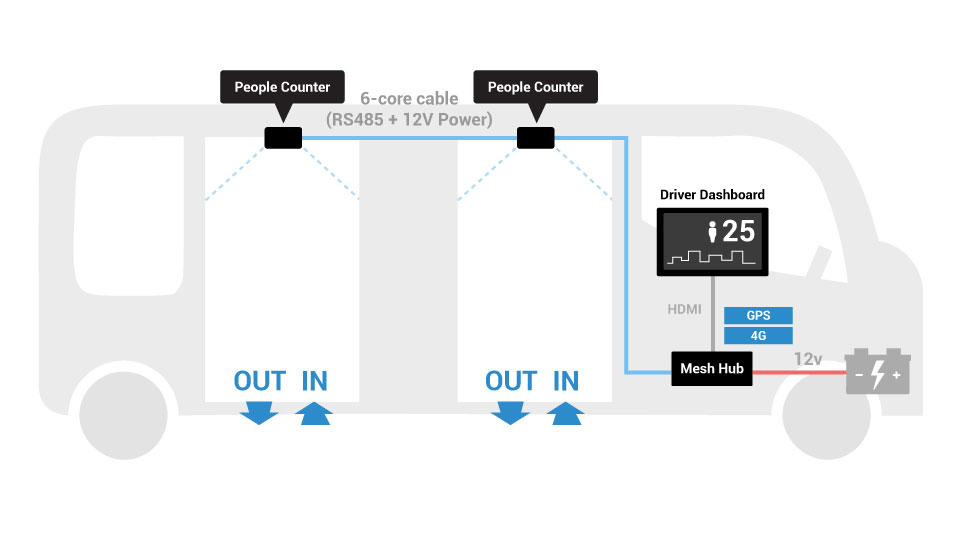 Passenger Counting in Buses
Standard solution for bus operators looking to measure passenger count and bus occupancy level over different timestamps at different locations of a route.
Uses
Measuring the passenger count and occupancy data by route/trip level across different stations
Live monitoring of occupancy in buses
Audit ticketing sales data based on passenger count
Equipment Used
1
2x FootfallCam 3D Mini™ (for passenger counting)
2
1x FootfallCam Mesh Hub™ (for network connectivity and GPS tracking)
Metrics
Occupancy Limit Triggered
Duration above Occupancy Limit
People Counter | Smart Bus Sensor | Passenger Counting System
Gauge the popularity of different brands within the store to understand different customer segments across different product, so you can gauge consumer behaviour.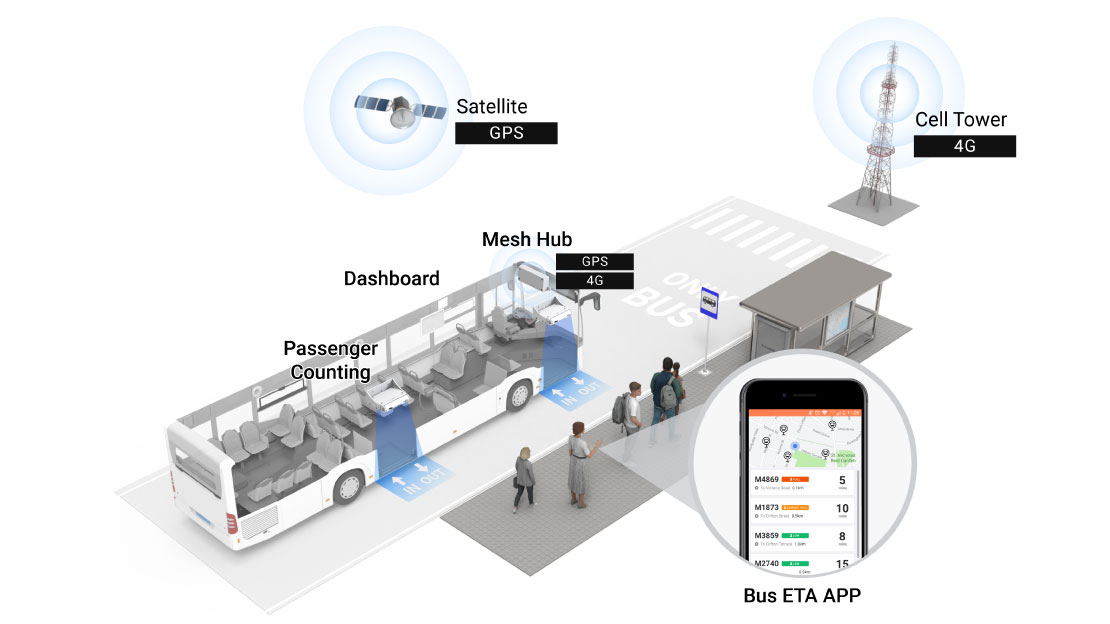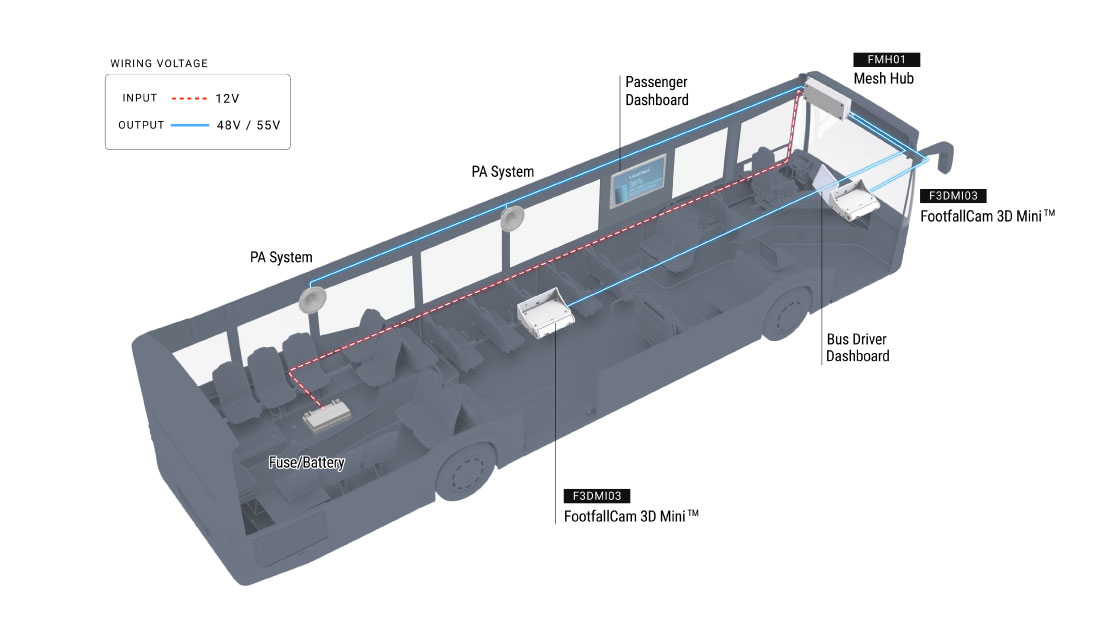 How Does It Work?
People counters count passengers going IN & OUT of the bus
Smart Bus Controller:
Connected to vehicle's battery, which powers the whole system
Provides 4G network connectivity for data upload and live tracking
Built-in GPS to track the location of bus
With this set up, bus occupancy & passenger count can be measured at different locations across different timestamps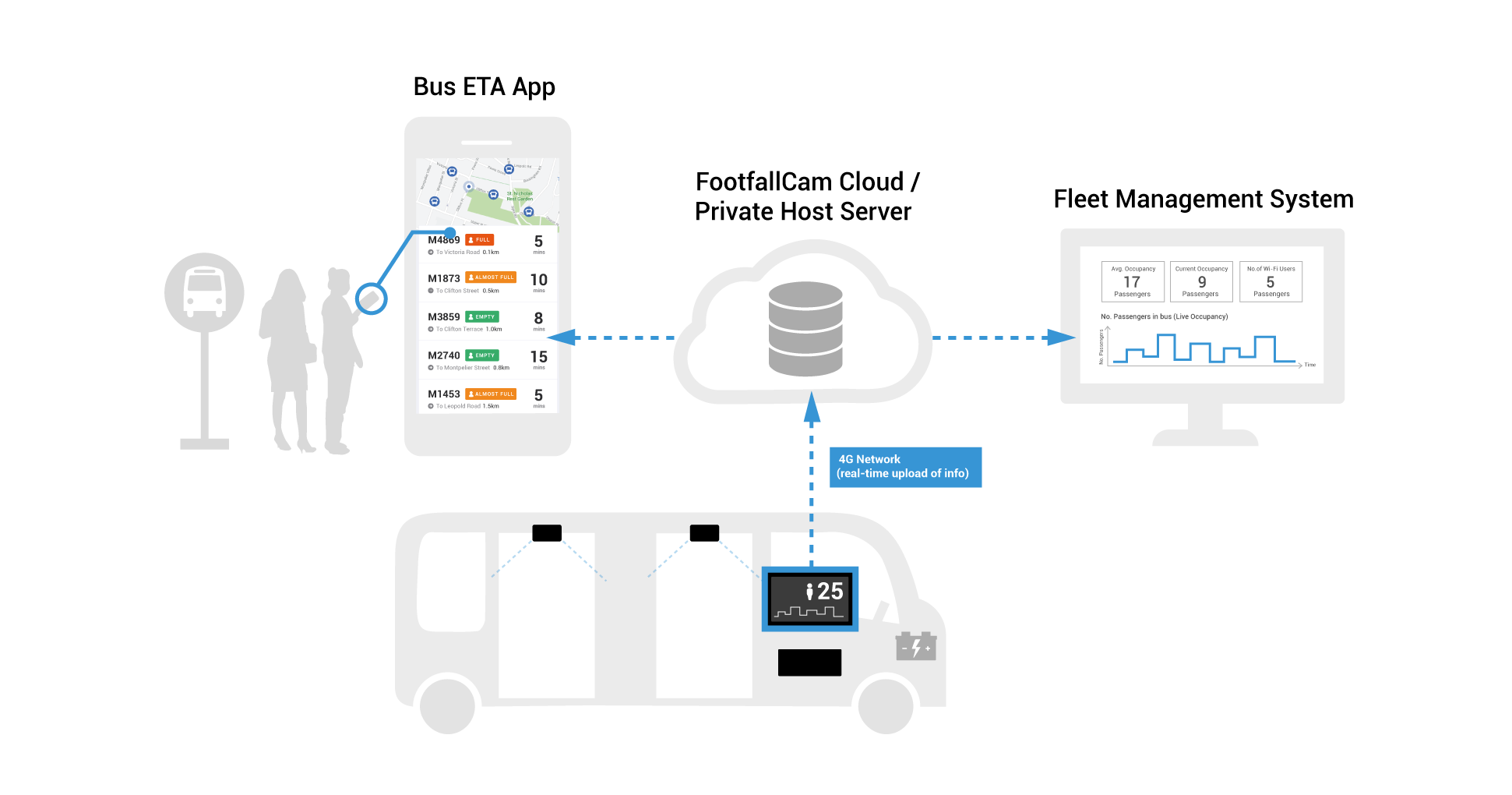 Smart Bus Solution Overview
3D Pro2 utilise 3D stereoscopic vision to count the occupancy of bus in real time
Passenger Count and Occupancy data are uploaded to FootfallCam Cloud or your private server
This data is then post-processed into management reports which can be used for business planning. Reports can be viewed at our online portal - FootfallCam Analytics Manager v8.
By integrating with your own Fleet Management Software, passenger count data can be uploaded to your system to facilitate planning.
Integration with your Bus ETA App will provide passengers the visibility on occupancy for buses on the road, thereby improving their travelling experience
People Counter | Smart Bus Sensor | Passenger Counting System
Gauge the popularity of different brands within the store to understand different customer segments across different product, so you can gauge consumer behaviour.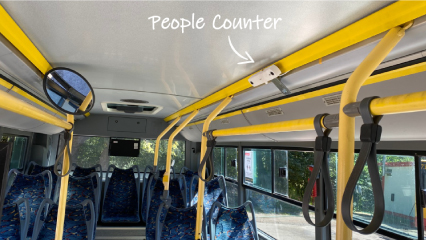 Case study #1 Public Bus - HEMC-Tech, Poland
Reseller approached us to develop a people counting system for bus service providers
FootfallCam provided people counters specially designed for low ceiling height
Tablet display for drivers to monitor bus load
Bus operators used Footfall Data to:
Forecast Peak Periods & Optimise Allocation of Buses
Justify Government Funding
Case study #2 McGills Bus Services, UK
McGills Bus Services wanted to count the number of passengers boarding/alighting at each bus station for better route planning.
FootfallCam integrated their bus schedule into our system to provide route & trip level reports
They used the data to:
Identify parts of the route which are under-used
Redesign Routes and Trips to optimise bus schedule planning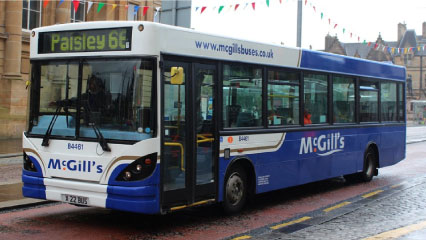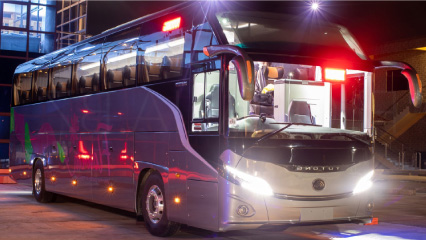 Case study #3 Floralia, Belize
Floralia approached us for a people counting system that will also allow them to conduct audits on their bus operations.
FootfallCam perform integration with their ticketing system and produce reports for ticketing sales and schedule adherence audit
Additional metrics that they obtained:
Ticket Discrepancy (Comparison between actual passenger count and sales data)
Arrival Time Discrepancy (Comparison between Bus actual arrival time and scheduled time)