Passenger Queue Monitoring
Queue counting help airport operators to identify the queue wait times, queue lengths, and whether specific tills are mannered or inactive to improve customer service and customer experience. Queue live data will help store managers to deploy existing staff when there is a shortage of workers manning the desk while historical data can help with staff deployment planning based on peak hours when passengers may grow agitated due to excessive queue lengths. All information of queue may be transmitted to an active dashboard and configured to offer real time alert to management levels, so they may determine whether additional staff are needed on to man the tills.
How does queue monitoring work?
With queue counting detection and blob tracking technology, when there is any form of movement in the direct view of the FootfallCam device, the device will recognise the activity and register the movement. This form of activity will be monitored in terms of the time of the activity and the duration of the activity. Queue counting is the counting mode that calculate KPI of employees working at the cash desk, check in counters, and baggage claim area. Queue counting calculates and provide the vision for management of queue based on video analytics to determine the number of consumers or passengers in a queue.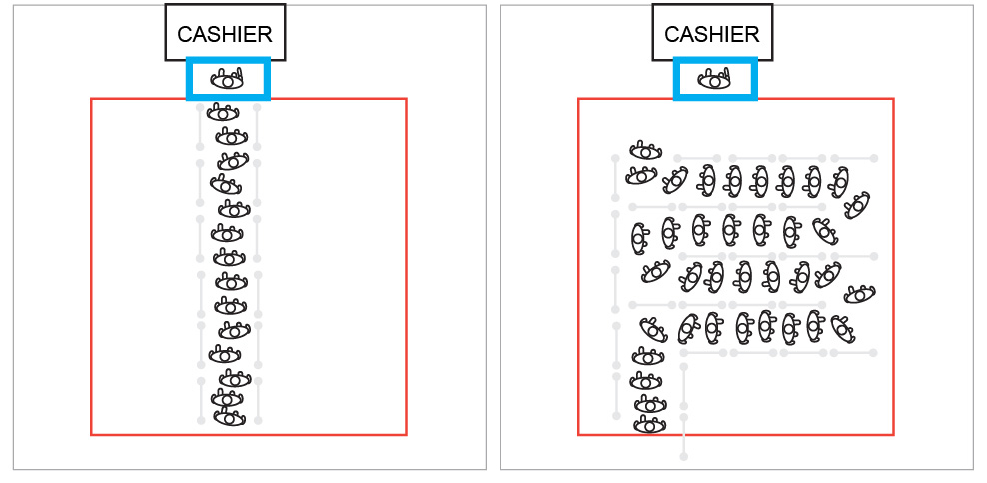 Dynamic queue counting
With dynamic queue counting zone configuration, FootfallCam can exclude individuals that are not considered as within the queue. Consumers that are not within the configured tracking distance will be excluded from the queue. This is to ensure that outliers that are detected within the queue tracking zone are not mistakenly assumed as in queue by the device, thus maintaining the integrity of the value of queue counting.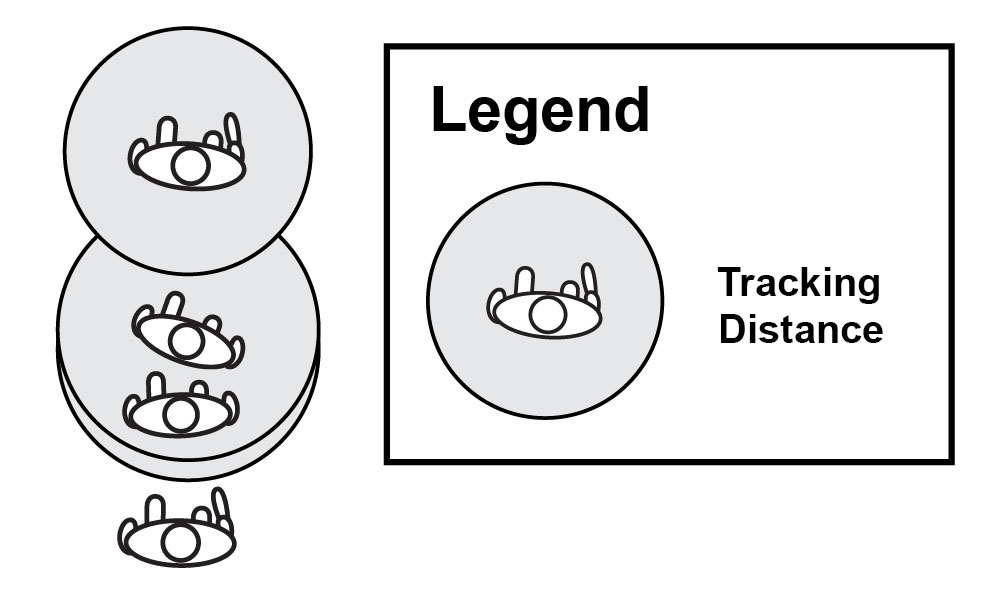 How are visitors tracked in a queue?
Each queue counter must be configured with a tracking distance. The tracking distance is the maximum distance that an individual must be from another individual already in the queue to be tracked. If an individual who meets the tracking distance and meets the queue minimum time, the individual will be tracked and is considered as in queue. The tracking distance is a configurable threshold that can be adjusted based on each store's unique environment.
Business Metrics
Queue time and length
All queues will be detected automatically when passengers approach the check-in counter. This offers users a chance to know at any moment how many people are queuing, and to redirect traffic if necessary. This will then directly translate to increase passengers' satisfaction. Operators will be able to determine what is the longest queue and the amount of waiting time for passengers in a certain queue. Operators with this knowledge can impact the service experience of passengers to positively impact their journey.
Predictive queue time
All queues will be detected automatically when passengers approach the check-in counter. The queue dashboard will utilise historical data of previous queue length and queue processing time of each operator to predict a queue processing time for all passengers. The predicted queue time may be directed to a live feed to informed passengers what is their average waiting time. This sets an expectation for passengers to foresee how long they will need to wait in a line. FootfallCam will alert on the number of passengers and recommend the optimal number of staffs needed to attend the people on an optimal service level either a day before or 30 mins prior to the start of queue.
Throughput on processed queue
Airport top management can quantify the passenger satisfaction based on their waiting time in check-in lobby, security checkpoint, immigration desk and baggage collection. It allowed the management to Identify the weakest link and define a clear goal for the operation team. All processed queues will be monitored and recorded by the FootfallCam device. Queues that have been processed will be recorded based on several metrics:
Date and time – Current date and time
Number of passengers in queue – At the queue on the same date and time, how many passengers are in queue
Average queue time – What is the time each individual passenger has queued for
Average processing time – What is the time each individual passenger stays at the counter for
Through this data, airport operators will be able to determine the efficiency of their staff and understand how long on average passengers spend queueing up.
Queues playback
All tracked persons are visualized as moving dots on a still background image in real-time. The actual situation can be supervised. These tracked data can be recorded and stored in the database, and the "queue counting" view can be replayed later for in-depth analysis of critical passenger flow situations. With playback options, operators may review the performance and flow of historical queues to increase passenger experience and lower operation costs. The playback will be available from in real time to pull to a dashboard application and will be applicable for playback functions as well.