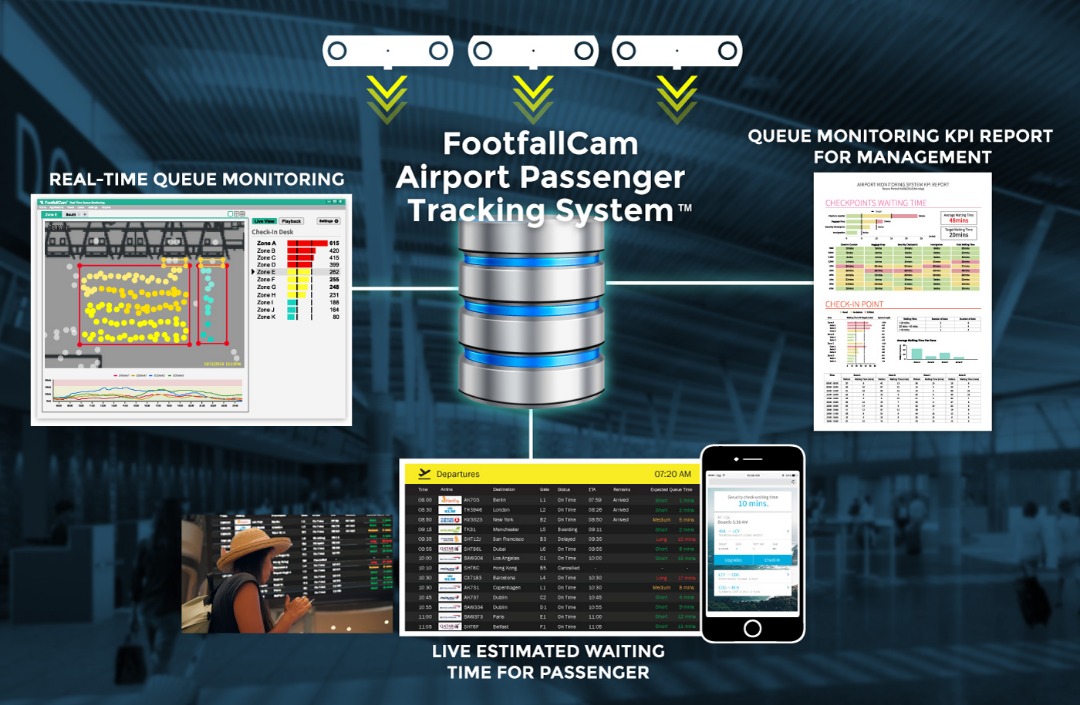 FootfallCam Airport Passenger Tracking System™
FootfallCam Airport Queue Management System is an essential tool for airport operators to manage the flow of passenger. By determining the waiting times in queuing areas, it helps airports to optimise their operations and helps passengers to set realistic expectations. FootfallCam system provides the industrial grade process with built-in crisis management, stability monitoring and security assurance.
Usage: Queue management module
Reports: Live Dashboard, Weekly and Daily
Download Brochure
Your browser does not support the video tag.
Key Solutions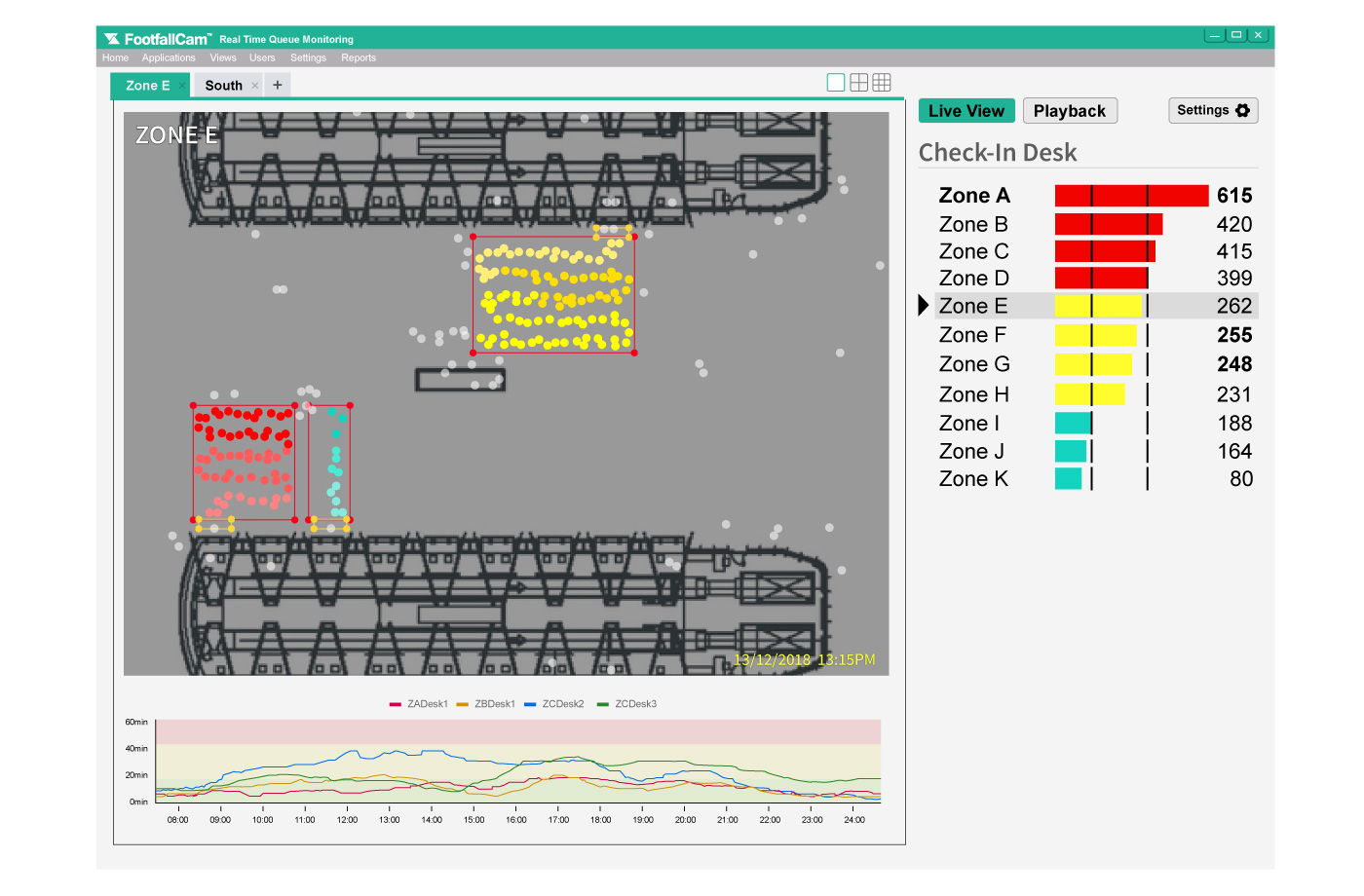 Airport operator would be able to monitor in real time of the queue length of all areas, and could assign resources to address area with excessive waiting time.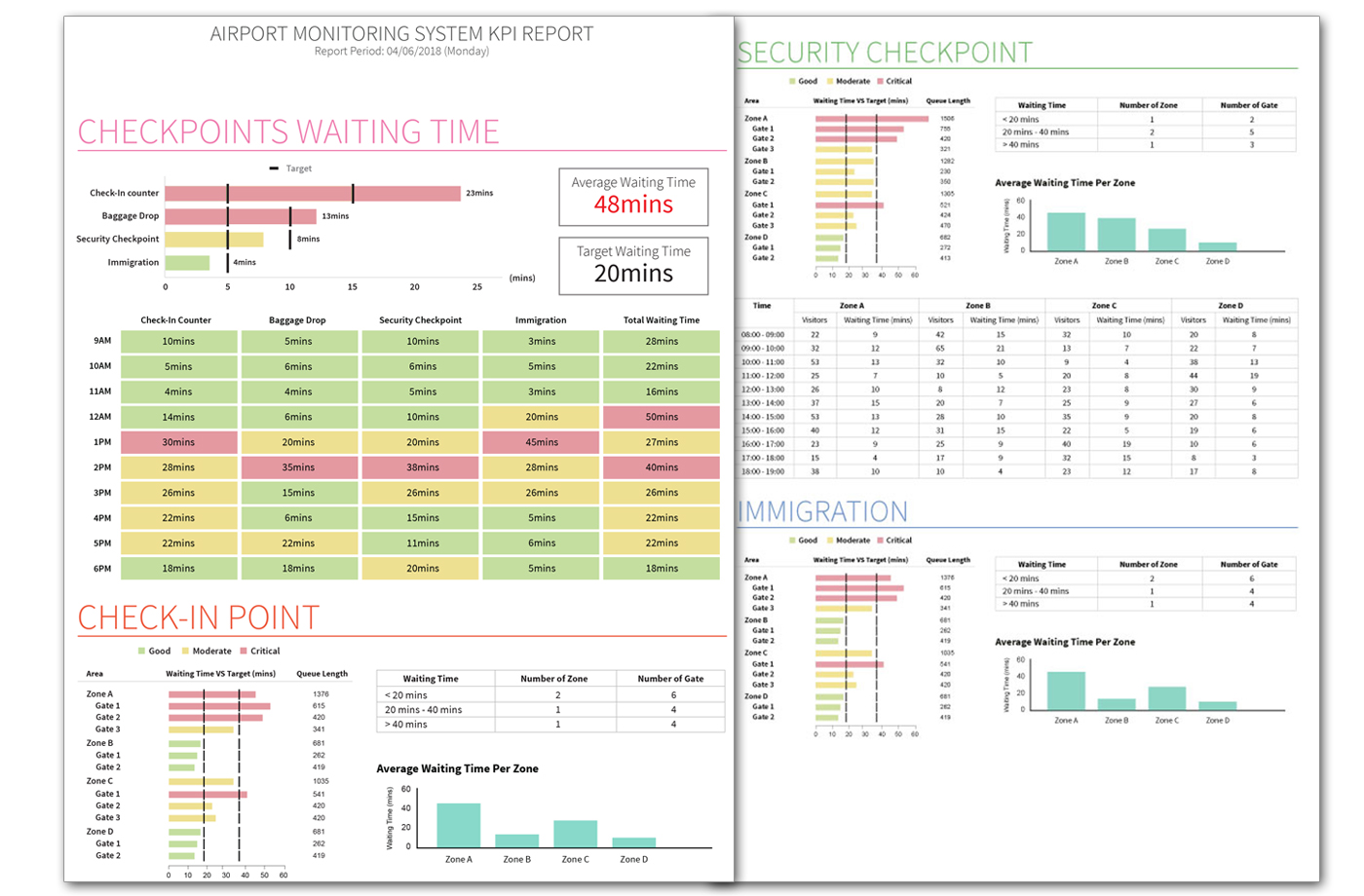 Airport Passenger Flow KPI
Airport top management can quantify the passenger satisfaction based on their waiting time in check-in lobby, security checkpoint, immigration desk and baggage collection. It allowed the management to Identify the weakest link and define a clear goal for the operation team.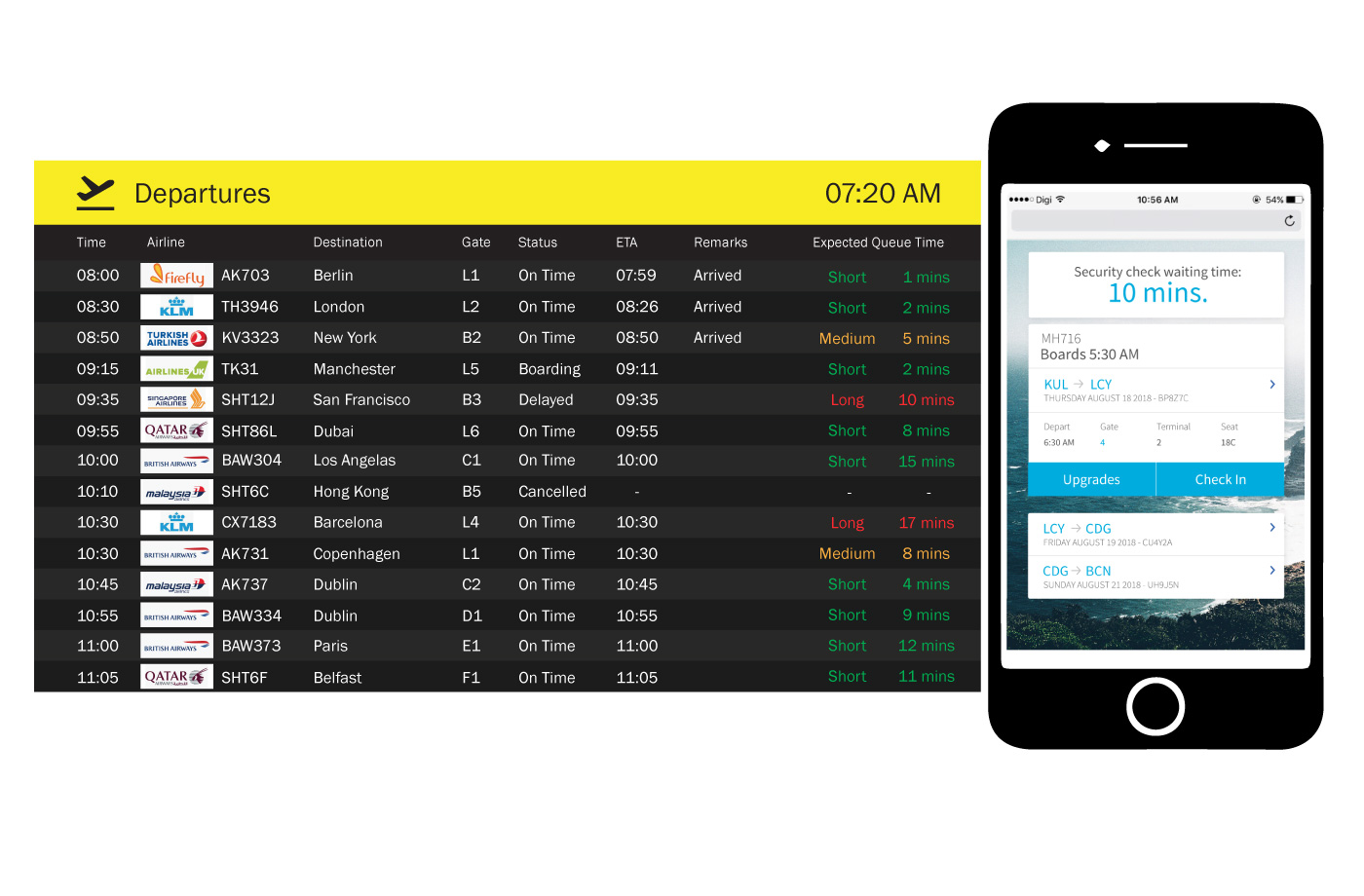 Waiting Time Information Dashboard
The queue length and waiting time information can be exported to the Flight information dashboard or mobile app. It helps passenger to plan their journey and increase overall satisfaction.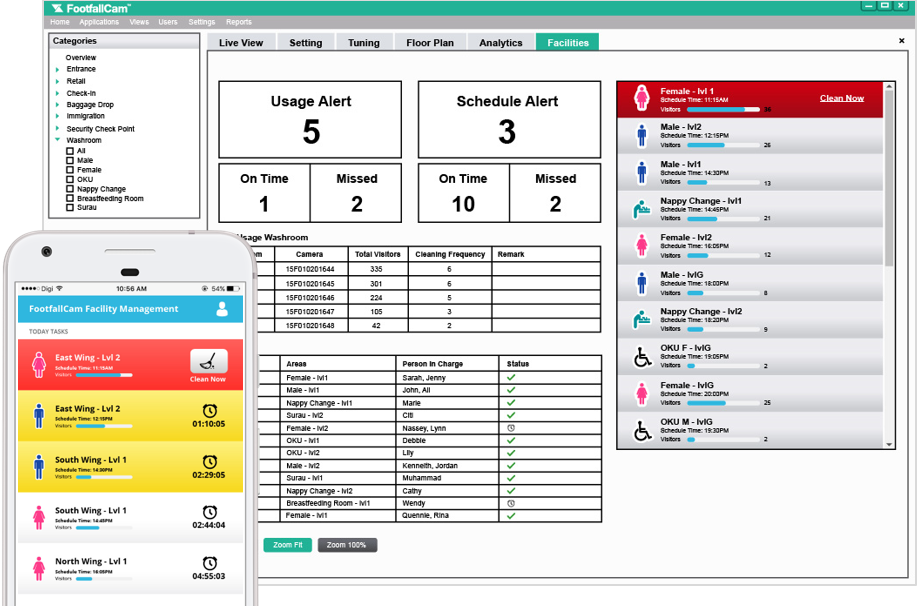 Facility Management
Provide consistent service quality and make cost saving decisions by measuring the usage of facilities. By creating staff schedules based on the usage of facilities to reduce workload on areas that do not require maintenance, airport operators can optimise the efficiency of operations.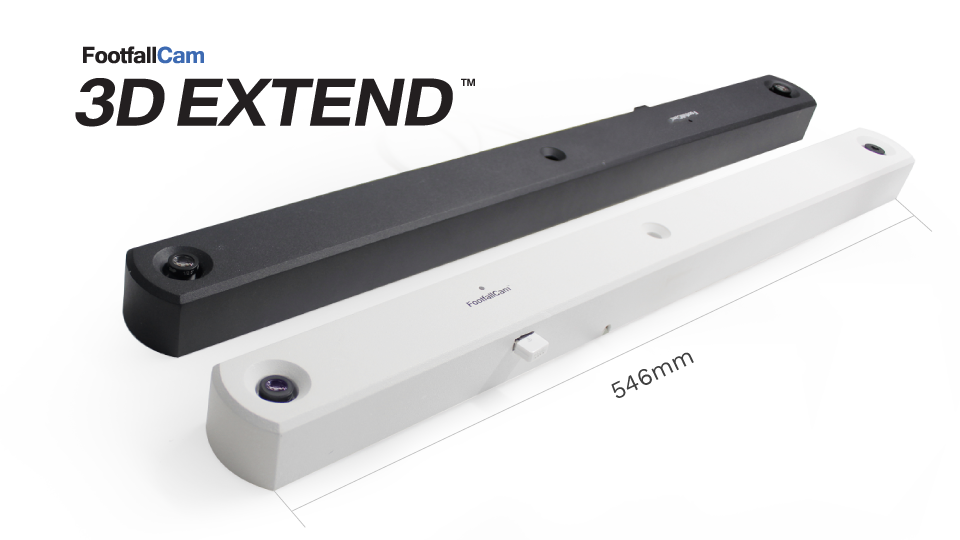 Introducing FootfallCam 3D Extend™
FootfallCam specifically designed a new product variance for usage in high ceilings to ensure the widest coverage without compromising in accuracy.
Installed in ceiling height upwards to 40 metres
98% and above accuracy with video proof
Working with Airport Operators
Accuracy Assurance
Each counters' accuracy be will audited by recording a video and comparing the difference between systemic and manual count.
Data Privacy
The only data sent out by the sensor is a constant stream of moving dots, each dot representing a passenger.
Project Management
Experienced in management for large scale project to take accountability for a successful enterprise delivery for every roll out projects.
Installation
Providing assistance and support for installation remotely through ad-hoc or on-demand remote session.
System Integration
Setting the standards for ease of use, extract data with pre-built connectors to your business intelligence.
Support and Maintenance
Dedicated project manager to take accountability and to resolve issues at any moments' notice.
How To Buy From Us ?
FootfallCam work with a global network of reseller to offer local services to our customers, as well as support from us. We are more than happy to work with appointed contractors from retailers and guiding you on the dimensioning and commissioning of the system, and supporting your installation of the system.

Appointing your own contractor
End users can appoint their own contractor to deal with FootfallCam directly. FootfallCam can work alongside the contractor in designing and planning the installations, and supporting the installation remotely.

Buying from FootfallCam Authorised Reseller
End users may also purchase directly from FootfallCam authorised reseller for local support, alternatively you may contact FootfallCam directly and we will forward you to one of our trusted reseller in your area.