People Counter | People Counting for Retailers | Visitor Counting
FootfallCam offer people counting solution for retailers to understand the number of visitors that enter their store, with people counters, users can review their store performance.
FootfallCam 3D MAX™
Flagship 3D Stereoscopic People Counter
Best Selling People Counter in 2021;
Unparalleled Accuracy of Up to 99.5%
Widest Coverage Area: Reduce the Number of Devices Required by 40%
Expected Lifespan of 25 Years: Superior Cooling with Aluminum Unibody Casing
Exclude Staffs from Being Counted: Staff Exclusion Tag
FootfallCam In-House Manufactured Product: Made in the UK
---
About this item
FootfallCam 3D MAX™ is designed as a powerful all-in-one counter that enables you to count visitors in any environment, whether that is in retail stores, shopping malls, museums, libraries, smart office buildings, fast food restaurants, exhibitions, or airports. Our counters are designed with attention to detail to provide the most accurate, reliable, and cost-effective sensor that the market has to offer. Furthermore, only the top-grade materials are used to offer you a high quality and long-lasting system.
People Counting Solution
Manufactured in the United Kingdom, FootfallCam 3D MAX™ is the latest generation of people counting device in the market, which can perform both people counting and customer journey analysis within one counter:
Equipped with dual fisheye lens, it has the widest coverage in the industry, which significantly reduces the total number of people counters required to cover an entrance.
Using our digital zoom function, the device mounting capabilities range from 2.5m to 4.5m without any additional accessories added.
Supports multiple counting functions in a single device such as people counting, heatmap counting, and queue counting which users can use interchangeably or even combine multiple counting modes in a single device.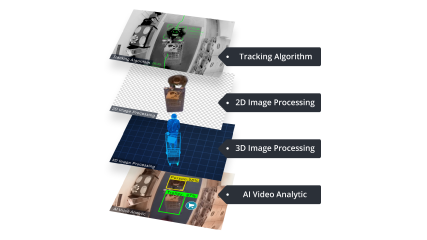 Unparalleled Accuracy of Up to 99.5%
Embedded with a powerful 1.2GHz quad-core processor and coupled with advanced AI algorithm technology, our FootfallCam 3D MAX™ is capable of achieving up to 99.5% accuracy even in environmentally challenging scenarios. Once installed, each people counter will go through a thorough verification process to ensure that it is tuned according to the environment. Once the process is completed, we will provide an Accuracy Audit Report with the verified counting accuracy, along with recorded video showing the counter in action.
Watch it in action
Highly Reliable, Expected Lifespan of 25 Years
FootfallCam 3D MAX™ is designed to last. Its components are encased in an aluminum unibody casing, acting as a giant heatsink to ensure optimal heat dissipation. Unlike other people counters which are traditionally encased in plastic, our counters can perform continuously and run high-level complex algorithms without worrying about its hardware temperature overheating. As a result, the lifespan of the electrical components is prolonged, with a mean time to failure of 25 years.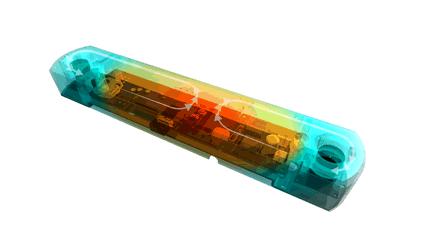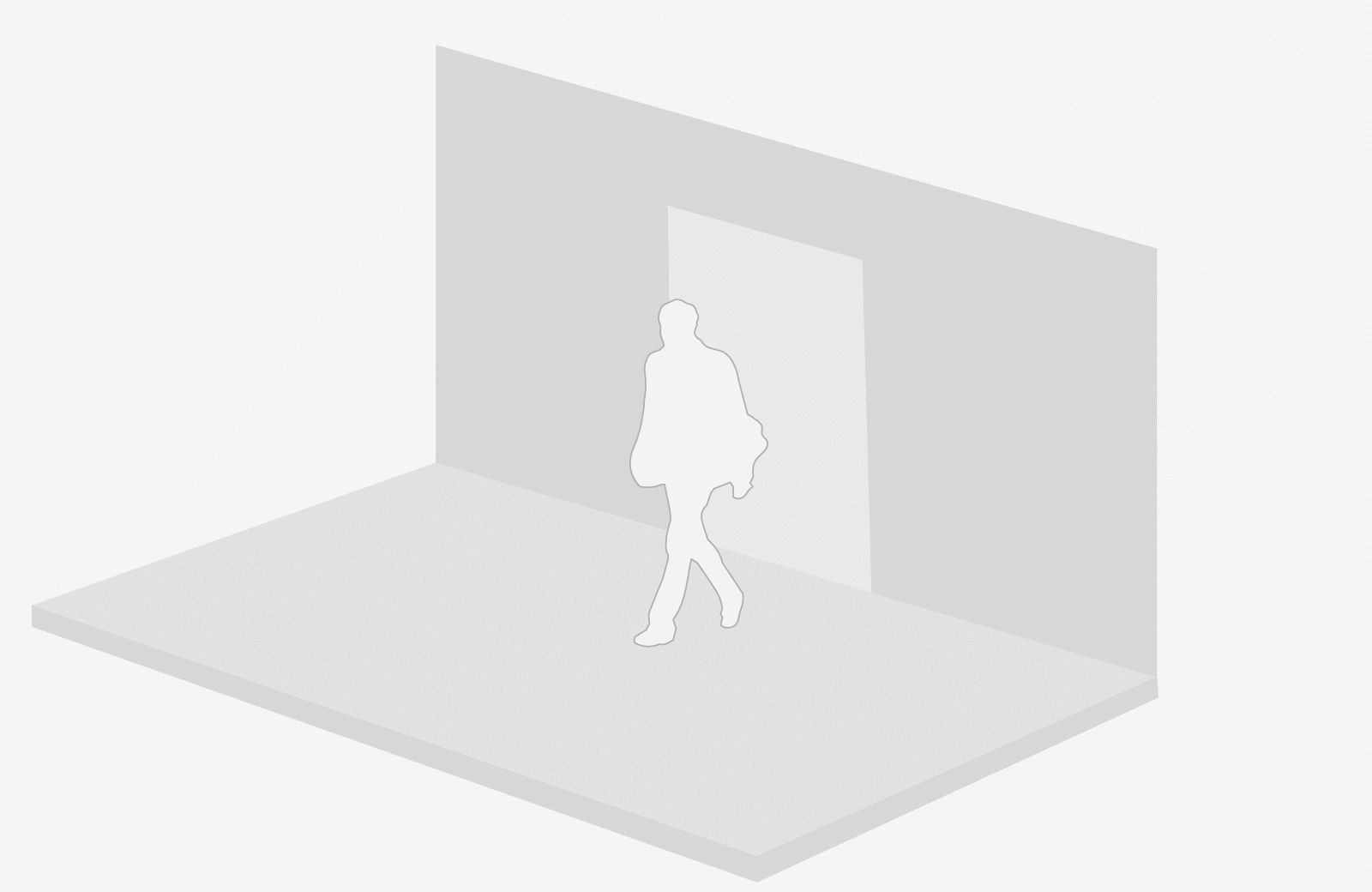 Widest Coverage Area
Being one of the few people counter manufacturer's using wide-angle lenses, FootfallCam 3D MAX™ can cover 110° — the widest coverage area of people counting in the industry. With the ability to cover more than 6m horizontally with just a single counter, we can significantly reduce the number of devices required to cover the same area by 40%, in comparison to other people counters in the market, hence cutting down on the total cost of the project.
Learn More
Easy to Install, One-Cable Installation
Simplify the installation process and keep the total cost of operation low by using Power-over-Ethernet (PoE) technology. Our people counter only requires one network cable to carry electrical power while delivering internet connection. Each device can be easily set up and configured using a smartphone.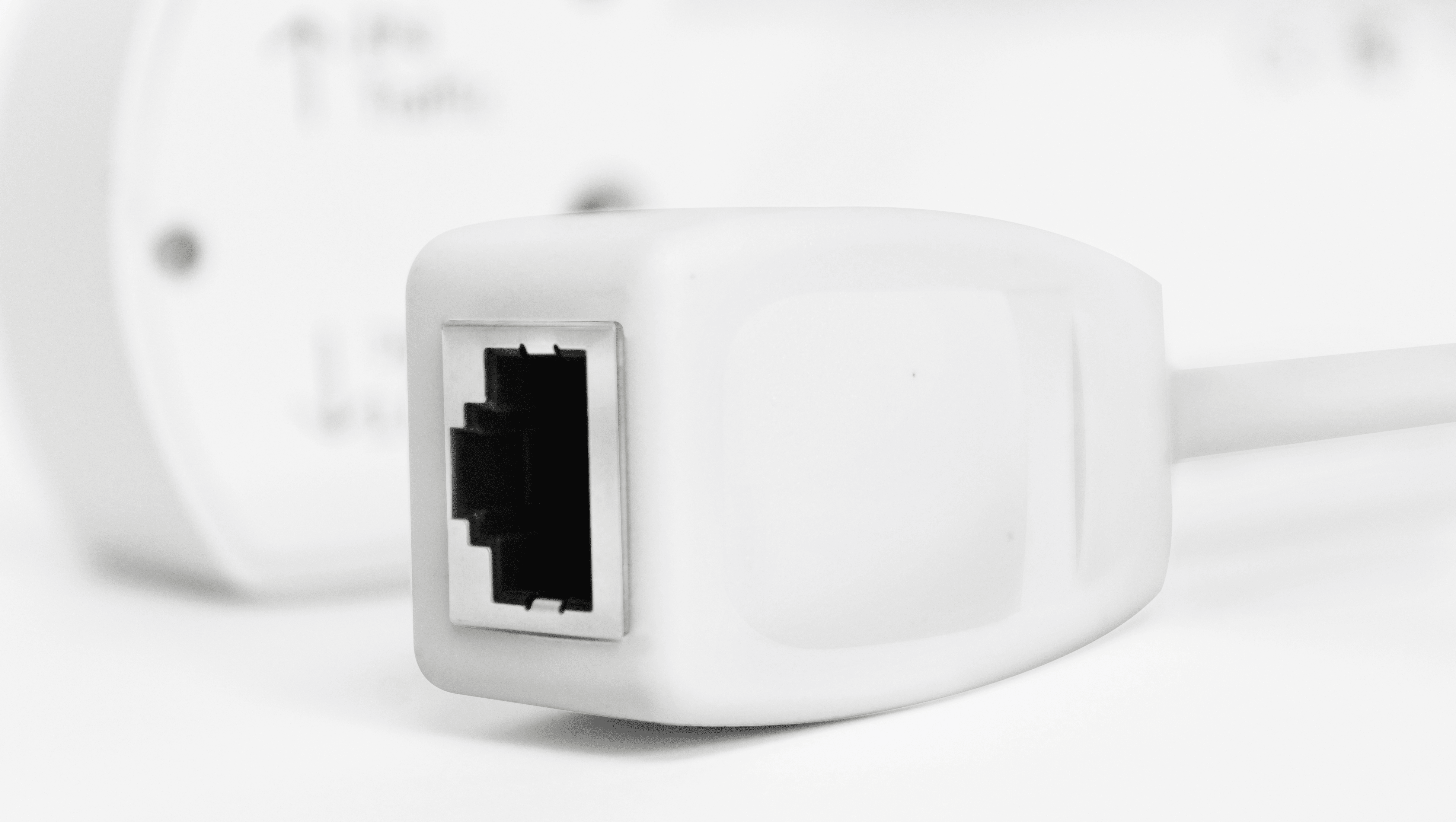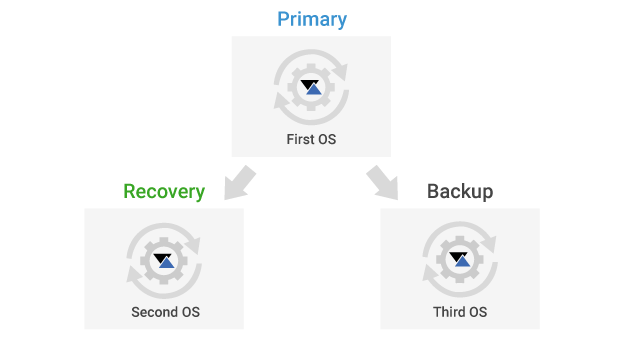 Zero Downtime, Triple Built-In Operating System
Our counter has 3 built-in Operating Systems. Even in the unlikely event of a memory corruption due to electric shock, resulting in damaged disc space and counter failure, the second and third OS will be put in action to auto-rebuild the first OS. Ten thousand hours have been put into testing the software stabilities of the counters with hardware watchdog in place to reboot the system in case of OS crashes.
Related Products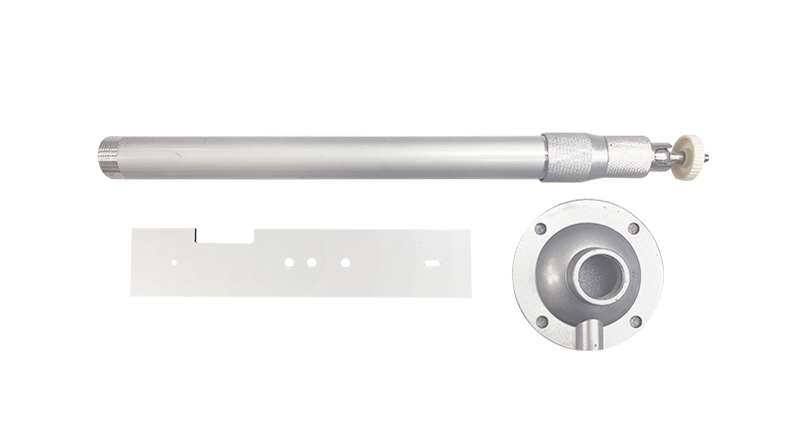 Drop Pole for People Counter (0.6m)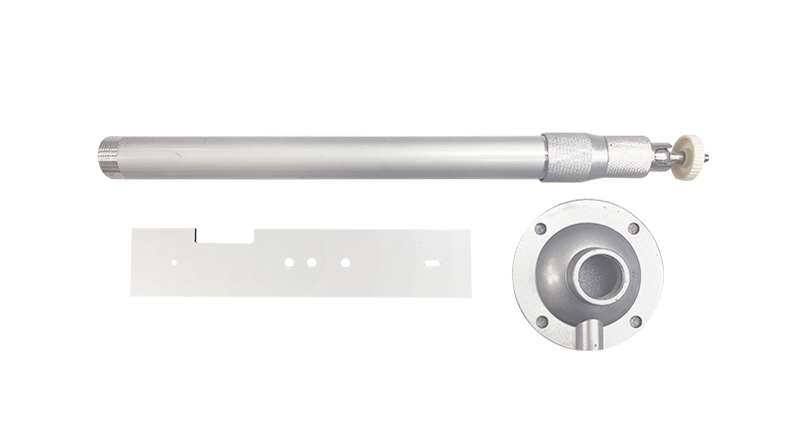 Drop Pole for People Counter (3m)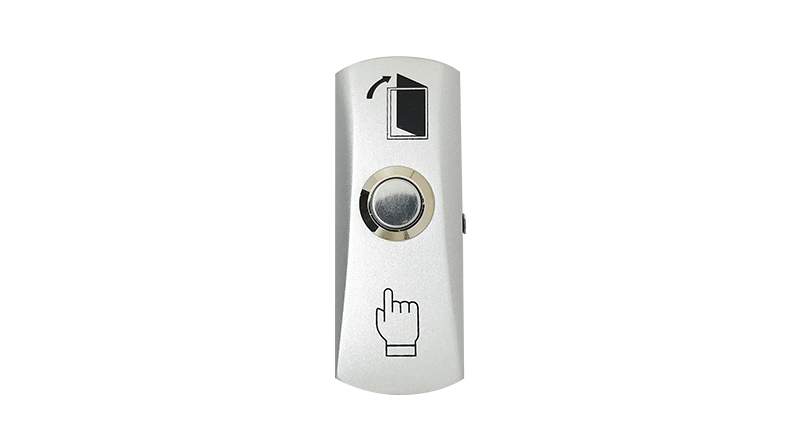 Wall-Mounted Staff Exclusion Button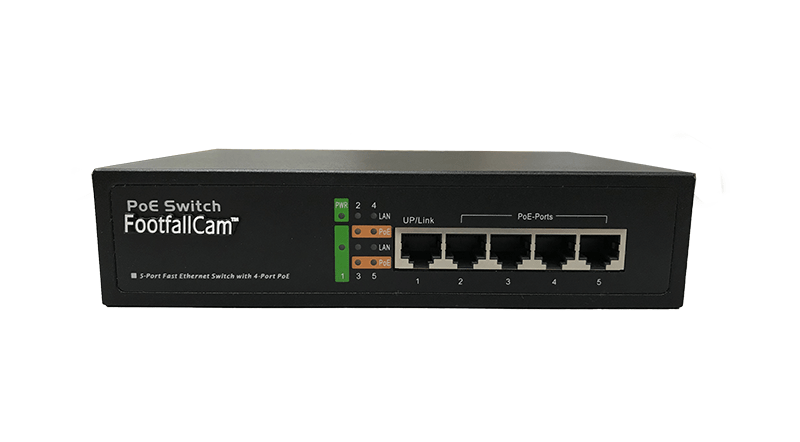 FootfallCam PoE Switch™
People Counter | People Counting for Retailers | Visitor Counting
FootfallCam offer people counting solution for retailers to understand the number of visitors that enter their store, with people counters, users can review their store performance.
People Counting
Object Classification
Understand business's audience which is essential for effective marketing and for reaching new clientele.
Staff Exclusion
Distinguish employees from visitors by recognising staff exclusion tags, hence getting a more accurate footfall count.
Multiple Lines Counting
Identify the pattern of the customer's walking direction by drawing multiple counting lines in a single counter.
Queue Counting
Accurate track the speed of service and maximize operational efficiency to manage queue length and ensure customer satisfaction.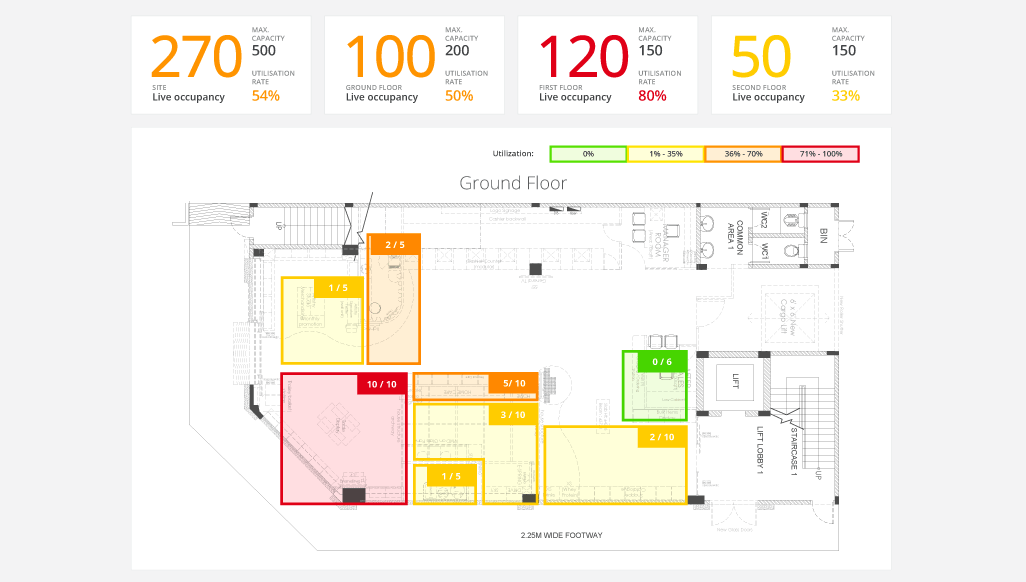 Area Counting
Optimize the estate value of key spaces with insights into the number of visitors in each area and adjust for the tenant rent rate accordingly.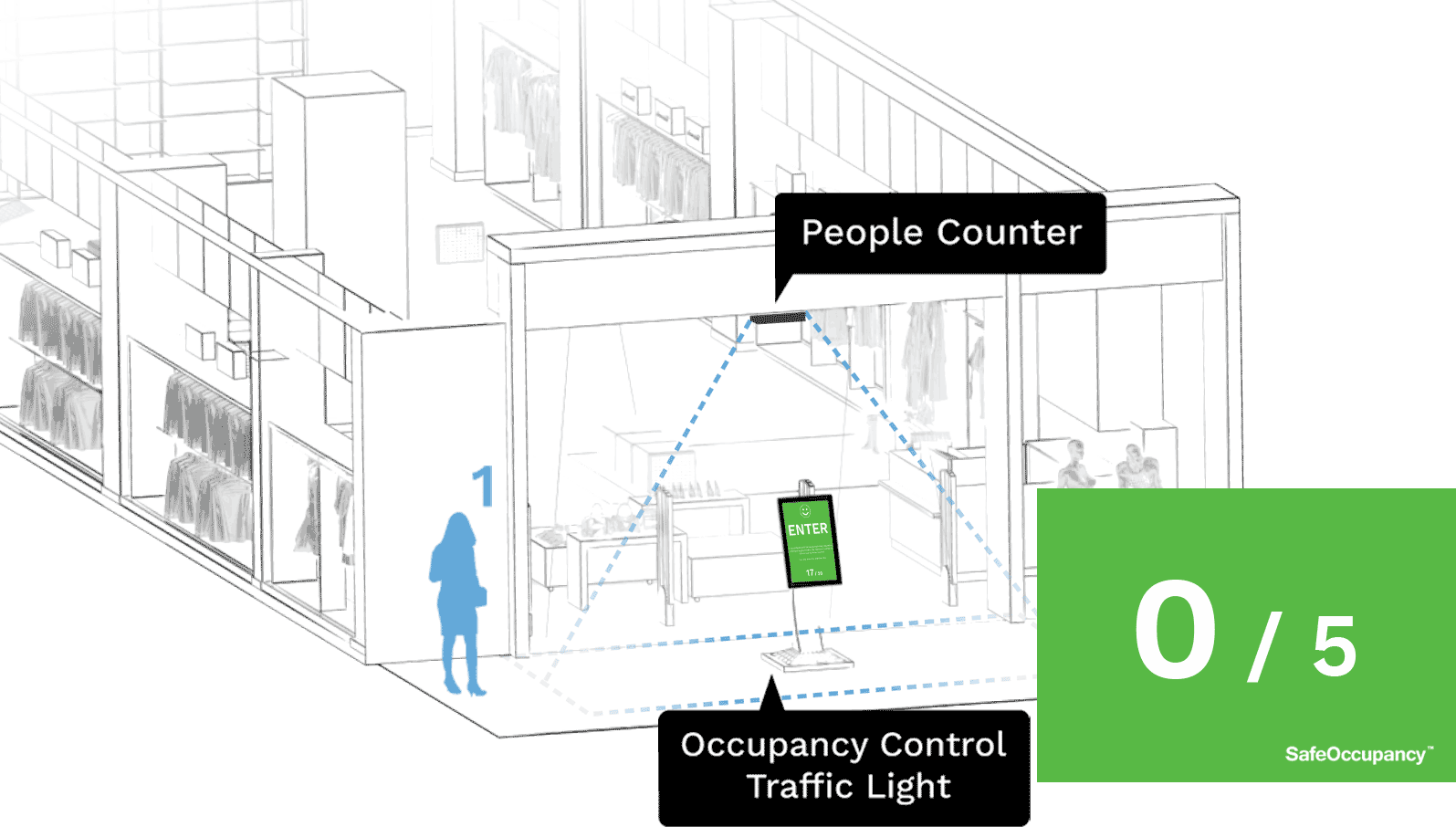 Occupancy Counting
With social distancing regulations imposed to flatten the curve of COVID-19 outbreak, our people counter can help businesses can control the number of visitors in their venue at the entrance instead of employing a physical personnel.
Wi-Fi Counting
Wi-Fi Counting
Combine video counting with Wi-Fi counting to better understand customer's behaviour, such as outside traffic, dwell time, returning customers, and more.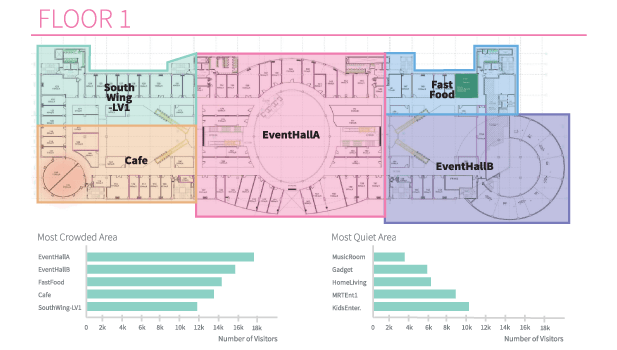 Zone Analytics
Determine which pathways have the highest usage by visualising the traffic flow patterns of visitors and better plan display placement to attract shoppers.
Other Functions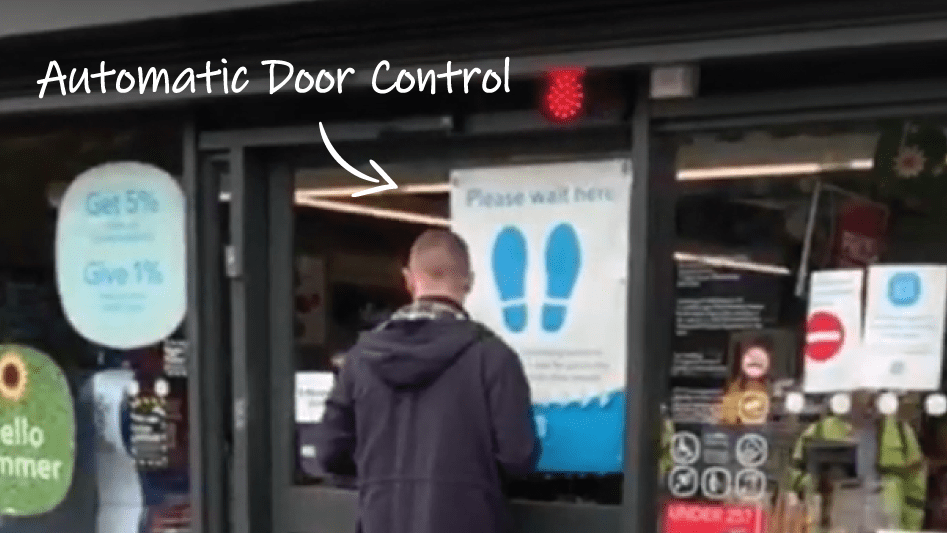 GPIO Integration
Integrate with existing anti-theft technology such as automatic doors, RFID-readers, and more via GPIO.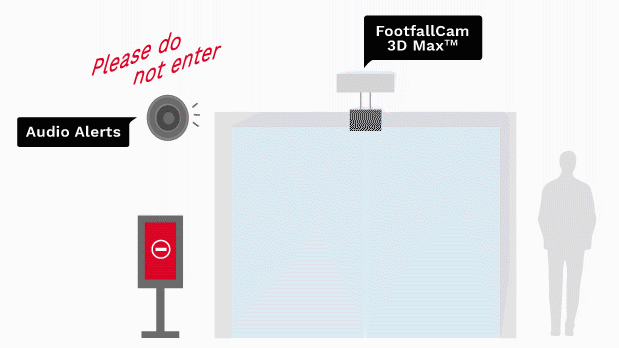 PA System
Broadcast promotional messages via a built-in PA system when the customer interacts with the shelf display.
ESL Transmitter
Connect to electronic shelf labels in the store to precisely manage pricing in bulk, reduce labour cost, measure product-level engagement, and more.
Technologies
Active Stereovision
Our people counter uses active stereoscopic technology, which uses 2 lenses to produce depth perception and 3D-reconstruction in an image.

The Information captured from the two differing views (from the left lens and the right lens) will be combined and interpreted into depth data, which are inversely proportional to the differences in distance to the objects.

The depth information allows the camera to distinguish a group of people as separate objects, such as one person in front of another.

It can count accurately even when there are high numbers of visitor traffic entering and exiting the store at the same time.
AI Image Processing
When it comes to the installation, we know that there can be many factors in the environment affecting counting accuracy. Nonetheless, our advanced AI processing intelligently learns the visitor's walking path, based on a large quantity of sample size. Over time, our in-house developed AI will auto adjust the counter's setting to suit each unique environment.

AI image processing technology is a key development in our people counting technology to ensure all counters across different locations can reach 99.5% accuracy.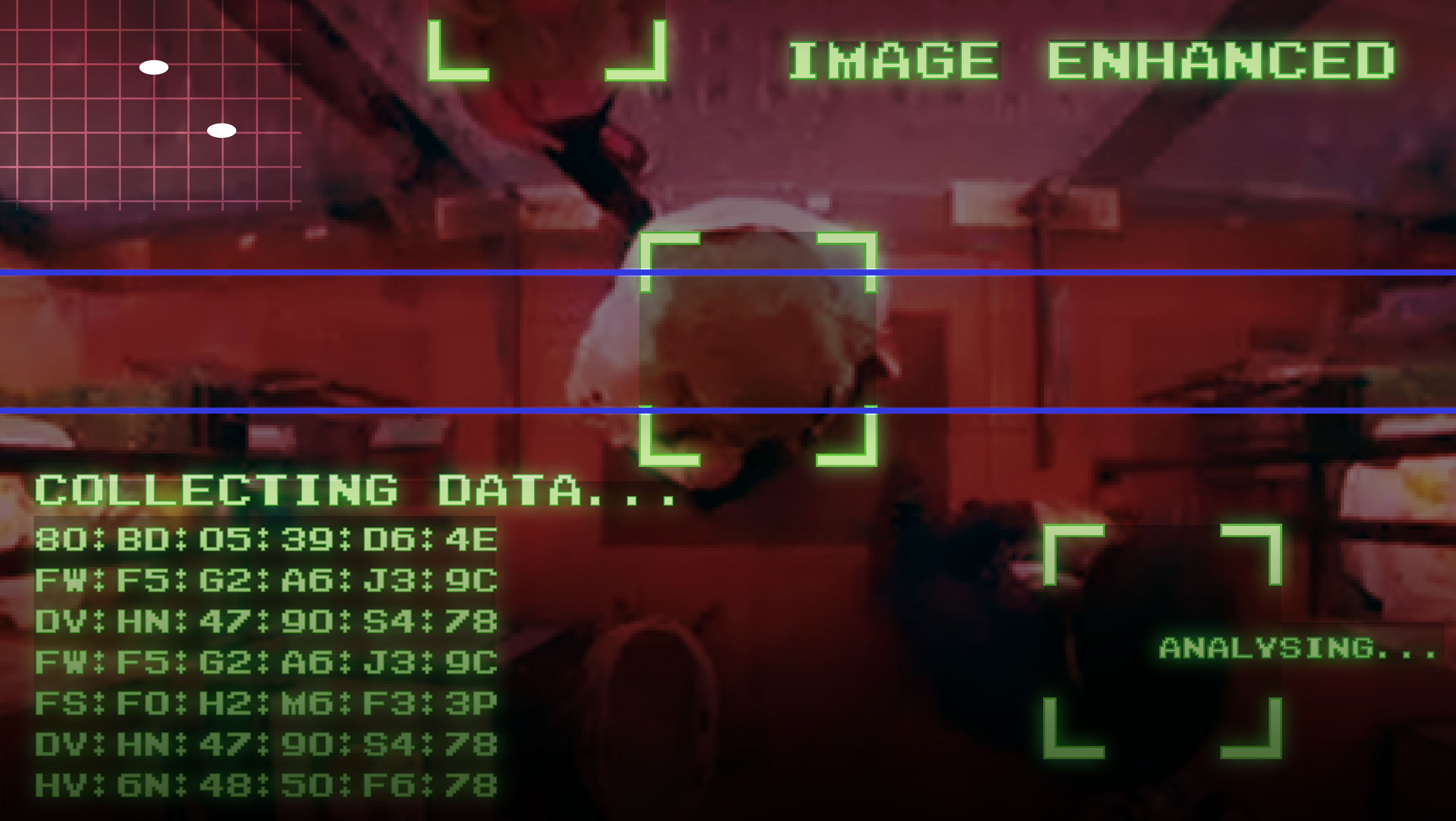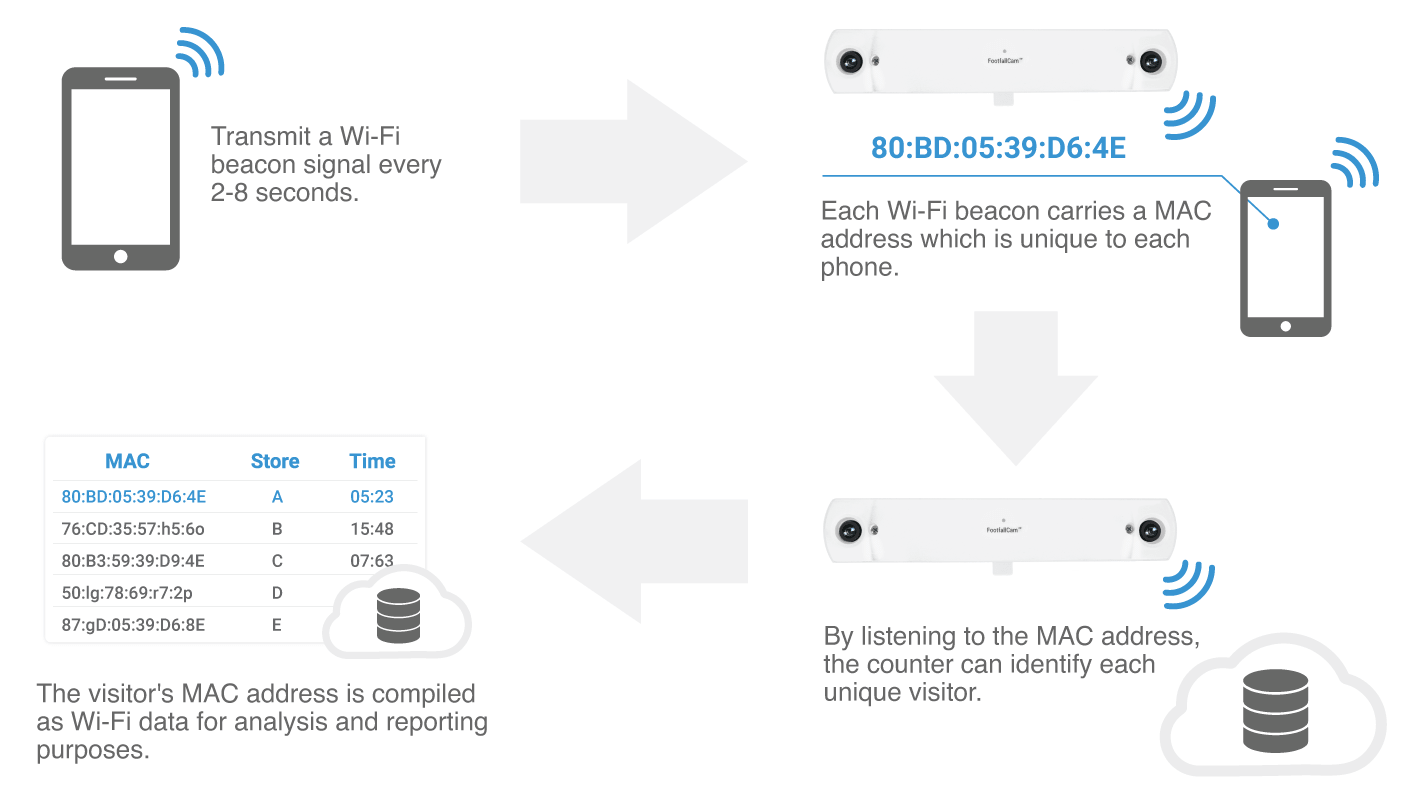 Wi-Fi Analytics
When a smart device is searching for an available Wi-Fi nearby, it would transmit a Wi-Fi beacon signal every 2-8 seconds.
Each Wi-Fi beacon carries a MAC address which is unique to each phone.
By listening to the MAC address, the counter can identify each unique visitor.
Once the counter has captured the unique MAC address from the smart devices, the data would be compiled for further analysis such as zone analytics, dwell time, passer-by count, turn-in rate, outside traffic, returning customer, and unique customer.
Wi-Fi Analytics Metrics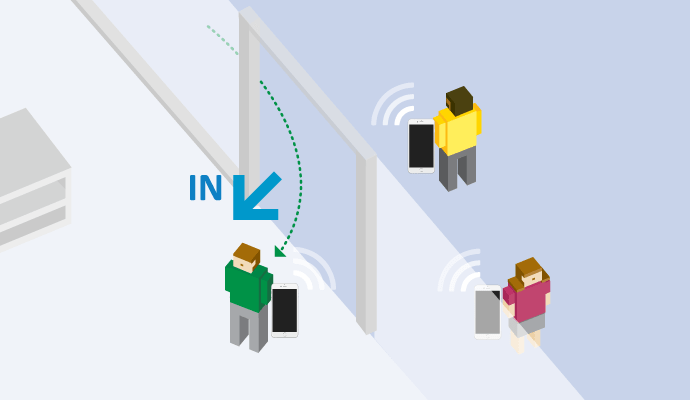 Outside Traffic
FootfallCam can detect a visitor's position within 100m radius. Based on the signal strength, it detects passersby outside the store and gives you the storefront conversion rate by comparing it with the store footfall. As such, you can find out how many missed opportunities you had outside the operating hours and how many people passing through have actually visited the store.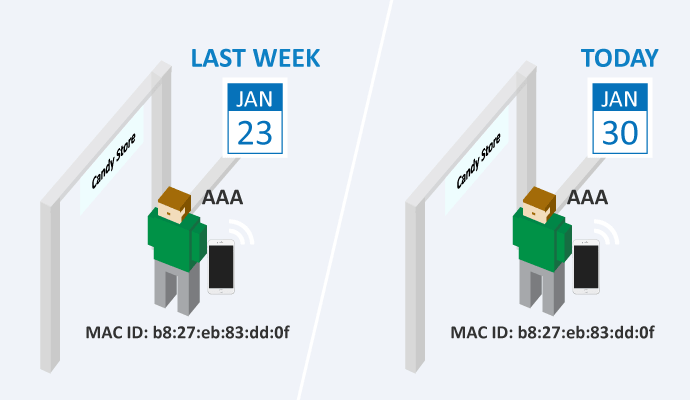 Returning Customer
Distinguishes if the customer has visited the store before by comparing the unique identifier (MAC ID probes) with previous records. Using this, you can find out how many customers have returned in the last 3 months. This can be used to measure customer's loyalty via the frequency and shopping habits of returning customers.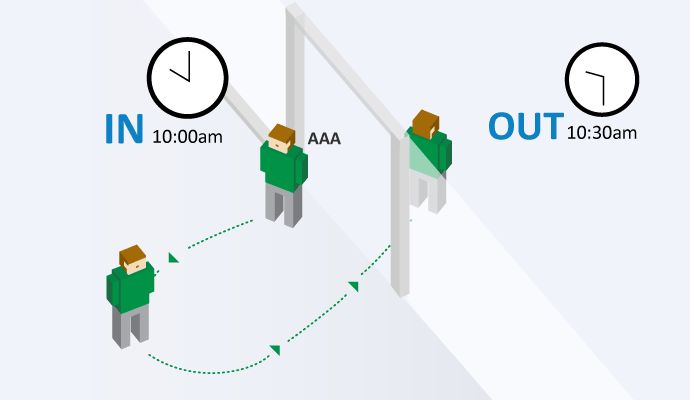 Visit Duration
Visit duration is measured based on the unique identifier (MAC ID probes) from the user's smartphone. It could approximate the time a visitor entered and left the store to find out how long a customer stayed in your store. By looking at the dwell time and sales transaction, managements will be able to find the pattern matching.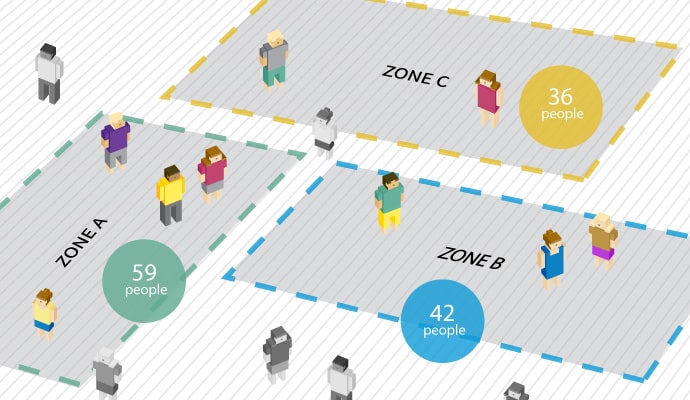 Zone Analytics
Location analytics uses advanced data mining techniques tuned to the type of data Wi-Fi location provides. Location analytics provides two methods for defining the different zones or areas of a venue. Explicit zones can be defined by the user as named polygons that represent known defined spaces. It could be identifiable by its Zone ID.
FootfallCam Wireless Mesh™
To further expand the use case , FootfallCam 3D MAX™ can be paired with additional hardwares surrounding the counter using narrowband RF. This technology enables us to transmit data between devices wirelessly, generating more data analytics while saving cost on the cabling installation. The narrowband RF can be deployed in different scenarios, such as smart office, smart washrooms, cafeterias, meeting rooms, and more.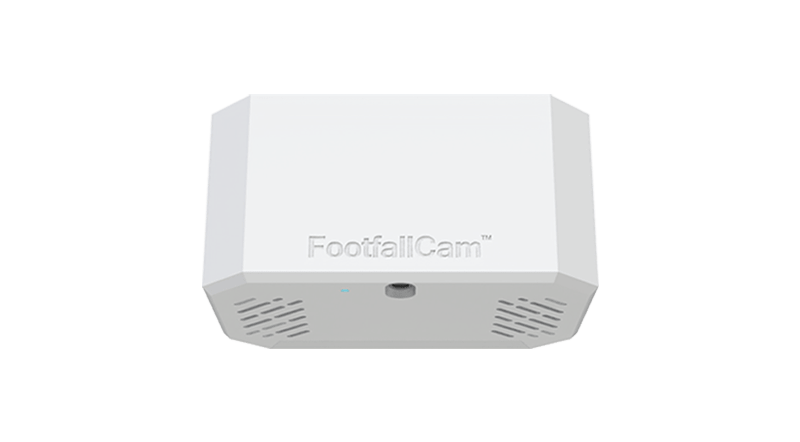 FootfallCam 3D Mini™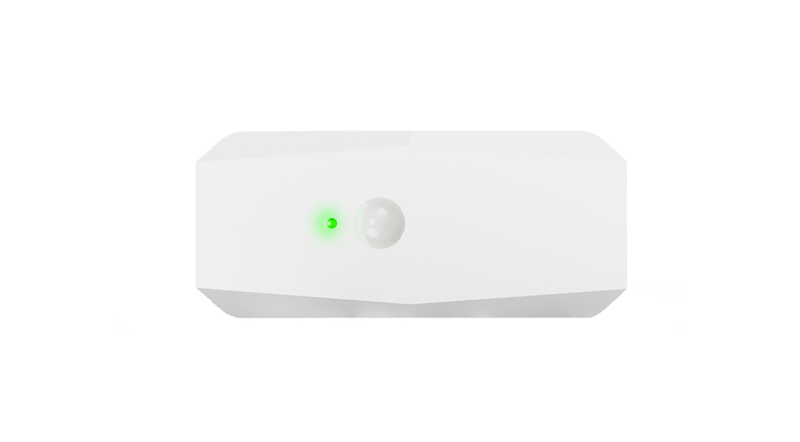 FootfallCam Space Sense™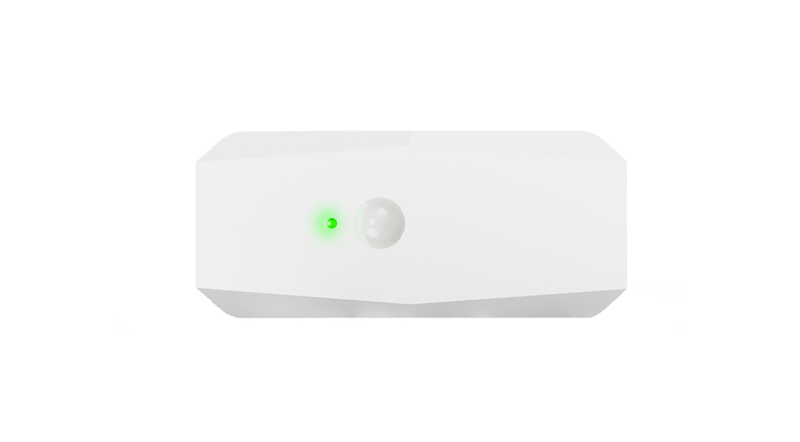 FootfallCam Depth Sense™
People Counter | People Counting for Retailers | Visitor Counting
FootfallCam offer people counting solution for retailers to understand the number of visitors that enter their store, with people counters, users can review their store performance.
Technical Detail
DIMENSION

Device

250mm(W) x 45mm(D) x 31mm(H)

Packing

255mm(W) x 210mm(D) x 55mm(H)
WEIGHT

Device

0.6kg

Packing

1.02kg
CAMERA

Resolution

2 x 5MP

Illumination

Minimum 300 lux

Lens Type

160° (Versatile ceiling height suitability for most installation environment)

RAM

1 GB

Antenna Coverage

100 ft radius

Output

5MP omni-vision 5647 camera modules

Frame Rate

25 fps (Live Stream of counting will only display 320x420 resolution to reduce bandwidth sent to database for verification purpose)
LEDS
LEDs troubleshooting for counting issues.
CASING
Made by Aluminum oxide alloy.
Power

Power Over Ethernet

47V DC, 012A (6W)

Cabling

Cat5e, Cat6
THERMAL CONDUCTIVITY
235W / mK
STORAGE
8 GB memory (Built-in)
- External Micro SD slot (Support up to 128 GB)
IDEAL MOUNTING HEIGHT
2.1 metres – 4.5 metres
IDEAL ENVIRONMENTAL

Operating Environment

Temperature 10°C to 45°C, Humidity 10% - 90%

Storage Environment

Temperature -40°C to 80°C, Humidity 10% - 95%
TRACKING TECHNOLOGY
3D-Spacing Mapping Video tracking technology, Background removal on static objects
FIELD UPGRADABLE
Manual / Auto Software upgrade
POWER UNIT SPECIFICATIONS

Power Over Ethernet

Yes (IEEE802.3at)

PoE Mode

Mode B

Consumption

5w

AC input

110V – 240V, 50/60Hz
FIRMWARE SPECIFICATION ON COUNTER LEVEL

Interface

Http; Https

User Level

2 levels: Administrator, Standard User

Operating System

Footfall Counter OS

Ethernet

10/100 Mb Ethernet

Data Delivery

TCP/IP

Database Type

SQLite

Report format

csv, .xml, .txt

Data Storage on counter level

Hourly Data: 300 days; Raw Data: 7 days;
Wi-Fi Data: 3 days *Data which has sent to server will keep permanently in server level

Data Backup

Yes

Firmware Feature

Dual Operating System, Hardware watchdog, Multicore processor

Data Upload to Server

Every Hour

Countries and Region

Middle-East: Turkey, United Arab Emirates, Qatar, Iran, Iraq, Morocco, Egypt, Jordan, Kuwait, Saudi Arabia, Tunisia, Palestine, Pakistan

Africa: South Africa, Kenya, Nigeria, Tanzania, Mauritius

Asia-Pacific: Australia, Mauritius, New Zealand, Indonesia, Malaysia, Singapore, South Korea, Thailand, Vietnam, the Philippines, Hong Kong, Macao, Taiwan, Burma, Japan, India, Mongolia

America: United States of America, Colombia, Brazil, Ecuador, Peru, Mexico

Europe: Slovakia, Italy, Spain, France, Germany, Poland, France, Czech Republic, Netherlands, Denmark, Luxembourg, Greece, Albania, Bosnia and Herzegovina, Ireland, Malta, Sweden, Switzerland, Portugal, Macedonia, Croatia, Finland, United Kingdom, Romania, Serbia, Bulgaria, Norway, Israel, Hungary, Austria, Vatican City State, Cyprus, Iceland, Slovenia, Turkey, Montenegro

Russian-Speaking Countries: Azerbaijan, Belarus, Kazakhstan, Lithuania, Georgia, Estonia, Latvia, Armenia, Russian Federation, Ukraine, Moldova, Belarus, Turkmenistan, Uzbekistan
Product Specification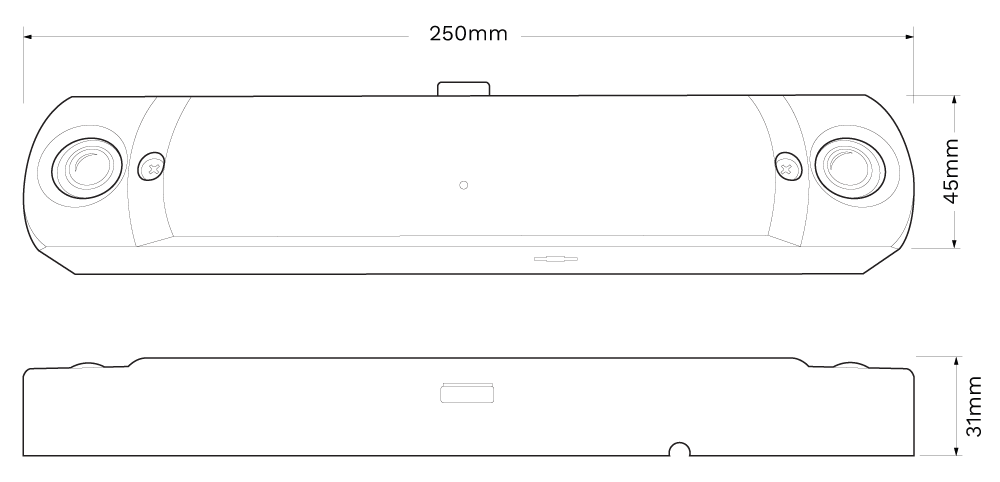 Download Datasheet
1. Does the counter accept PoE instead of PoE+?
Yes, our counters can work with both PoE and PoE+
2. What type of plugs does FootfallCam provide for people counter?
FootfallCam provides 4 types of power cable to the international customer:
Type G
Type B
Type F
Type I
Users that are looking for other types of power cable will need to source from their local country, or they may choose from one of the power cables above that is compatible in their country.
3. If 2 counters are installed side by side in the same entrance, would it count the same person twice?
An individual will not be counted twice even if the counter coverage overlaps an area, as our FootfallCam verification specialist will exclude any overlapping areas between both counters.
4. Is there any way we can exclude counting kids/children?
Yes, by default, FootfallCam 3D MAX™ will exclude counting any person which is below 1.3m in height.
5. Can the counter be easily relocated after installed?
Yes, the counter can be easily relocated. You will only need a Cat5e/Cat6e cable to connect the counter to the IT router. However, the accuracy of the counter would need to be re-verified again after relocation to ensure that it could achieve the maximum accuracy as different settings would need to be applied in different environments.
More FAQs