People Counter | Smart Office Sensor | Occupancy Counting
FootfallCam smart workplpace sensor tracks and monitors building occupancy to optimise facility management and space utilisation.
FootfallCam
Street Counting System™
FootfallCam Street Counting System™
Big data for them to manage and review. We need to have an accurate method of tracking our visitors across all the different resources we provide. We want to be able to gauge the usage of each facility and allocate our funding accordingly. OR Research suggests that as much as 50 percent of corporate office space goes unused at any given time, yet companies continue to pay for 100 percent of it.

Pedestrian Counting

Area Counting

Replace Sporadic Counting
Street Traffic
Make data-driven infrastructure decision for city planning.
High Street Reopening

City Infrastructure Planning.

Measure Pedestrian & Vehicle Volume With Footfall Data

These applications include human detection, pose estimation and car detection, in helping to improve or build new infrastructure in high-traffic areas as part of the planning in a smart city.

Measure Public Facility Usage

To make informed infrastructure decisions such as improved bus routes or bigger shelters at popular locations.
Management report for street planning
Understanding daily trend of every single streets will help in allocating appropriate resources,
Identify Peak Hours & Traffic Congestion Areas
Improving the overall efficiency and potentially saving costs.
Threshold alerts can also be set up for managements to take appropriate action to any overcrowding situation, within Covid-19 pandemic.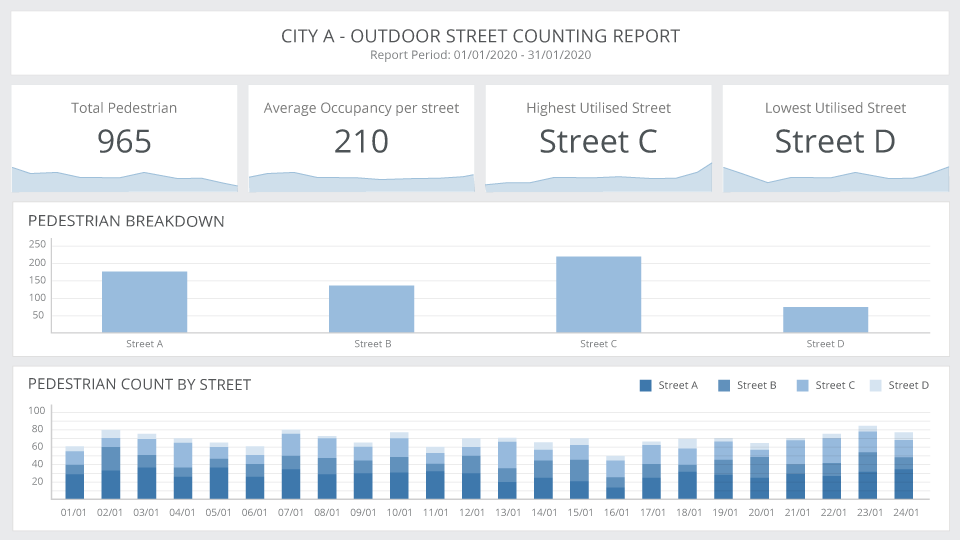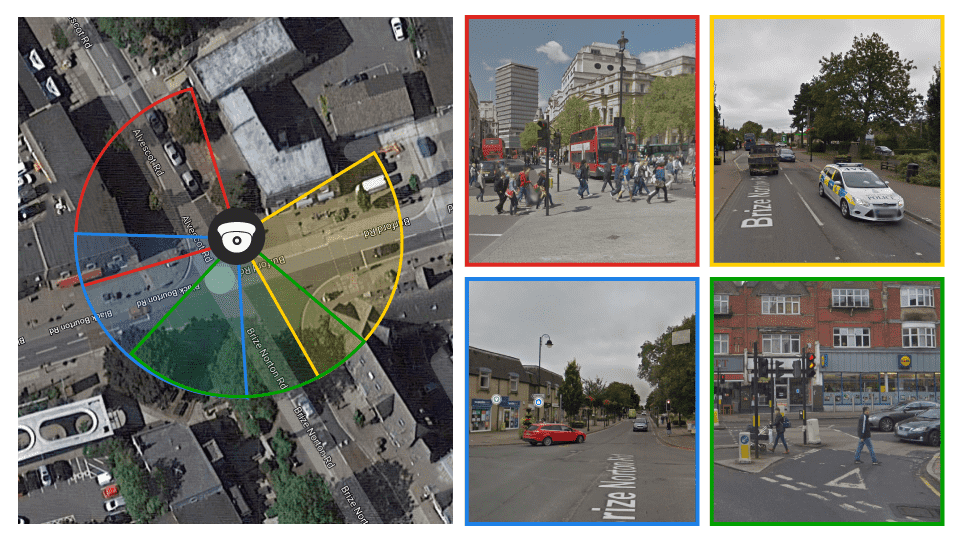 4 cameras-in-1 Outdoor CCTV Camera
Wider coverage

Capturing 4 different regions simultaneously

Lower installation cost
Light weight

Minimum wind loading on the street furniture
Smart office footfall sensor | People Counter
Gauge the number of visitors in each meeting room with FootfallCam people counting device, to visualise peak hours of the hall and compare traffic across campaigns.
Pedestrian Counting
Measure the usage of public facilities such as walk-way, pedestrian crossing or footbridge by traffic volume in order to improve or build new infrastructure in high-traffic areas as part of the planning in a smart city, included:
Pedestrian behaviour on facility usage
This system saves time for businesses and employees alike, improving staff satisfaction and promoting an agile working environment.
Area Counting
Crowd Control to avoid Stampede
Keep track of crowd density to prevent congestion and chaos at peak hours.
Monitor Real-Time Occupancy Level
Live occupancy data with visual warnings and alerts when limits are approached or exceeded.
Crew and Team Allocation
Divide the workforce into groups based on real-time situations.
Data analytics for both indoors & outdoors
Deployment can be carried out for public areas, be it sheltered or unsheltered.
Replace Sporadic Counting
Act as road paradox to identify root cause of the inevitable traffic congestion in the city core.
Diversion planning can be done at peak hours on a daily, monthly or yearly even basis
To analyze the road traffic density, especially in mega cities, for future city planning.
Traffic analysis in smart office | People counting sensor
Understand the distribution of visitors throughout the smart office with 3D people counter, such as a conference room and office usage.
Restroom management for offices | Washroom usage system
People counters for facility management allocates cleaning staff automatically to prioritise on busier areas based on actual toilet usage.
Installation Support
Remote Onsite Support
When it comes down to installation, FootfallCam provides full support for their customers. After the first purchase, FootfallCam will create a private support Chat Room on the FootfallCam Support App, where members of the technical team will be on-hand to provide direct support. The chat will allow photos and documents to be shared, to provide installers with complete confidence when onsite.
FootfallCam can also help customers find the right installer for their project. By working with partners all around the global, FootfallCam has an extensive and expanding list of authorised resellers and installers who provide local services.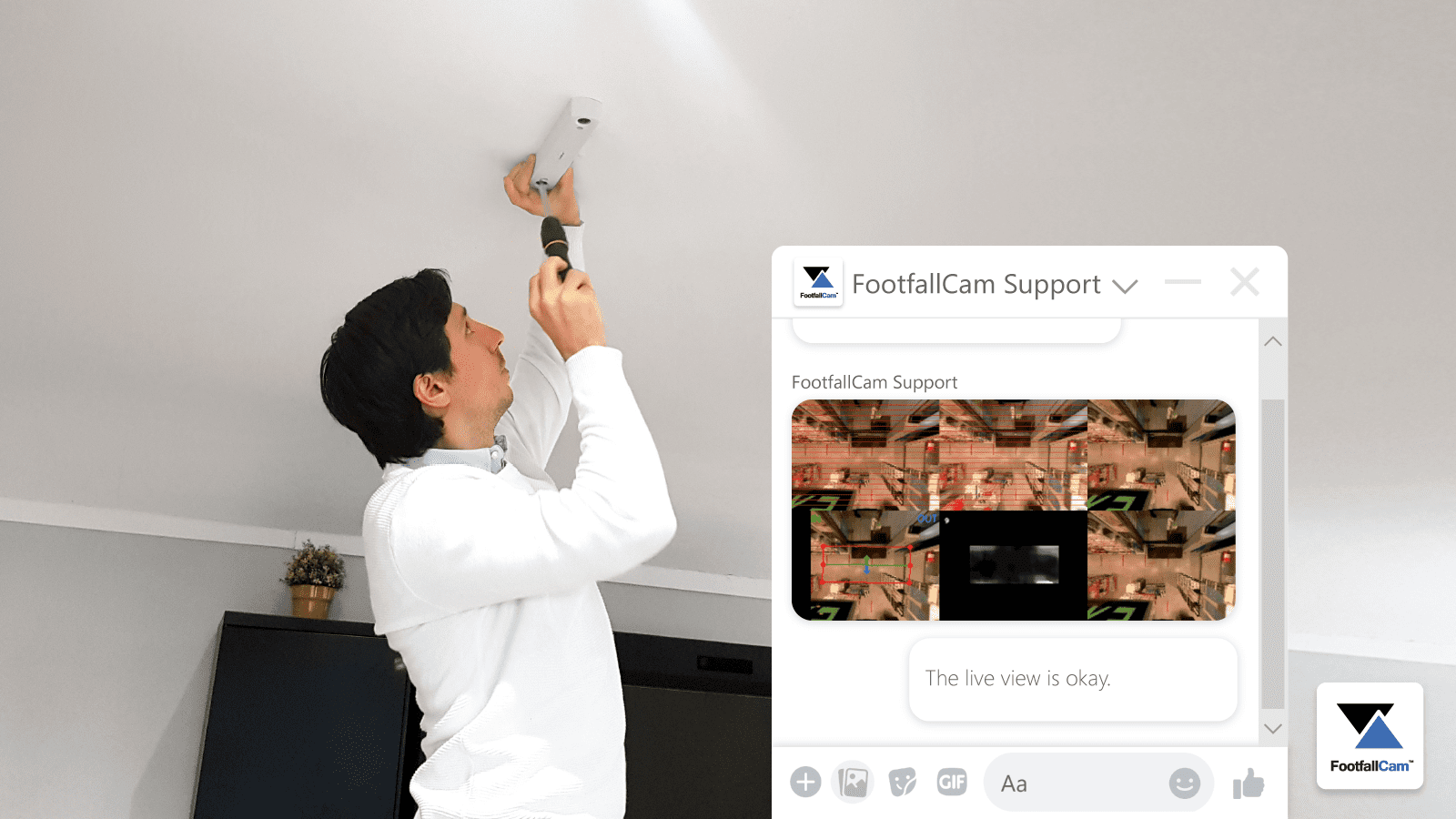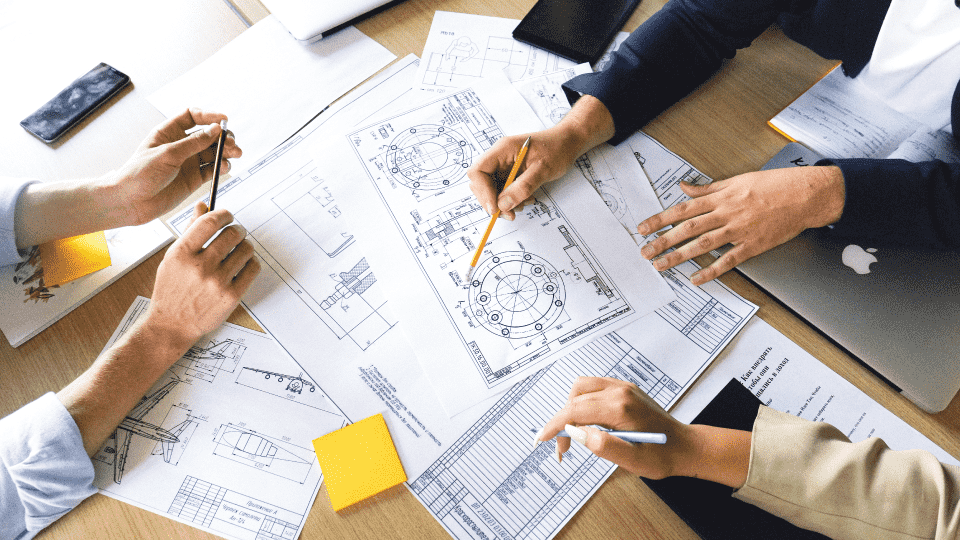 Floorplan Service
In order to get the most out of people counting systems, it is vital to get the positioning right in order to achieve an optimal area of coverage. To aid large-scale projects and installation, FootfallCam offers a complimentary Floor-Plan Design Service to advise on the placement of devices.
FootfallCam has an in-house installation specialist who are dedicated to helping companies find the perfect positions and get the most out of their devices. Providing a floor plan to FootfallCam will allow the team to make tailored recommendations on product positioning and functions, providing customers with the best bang for their buck.
Deployment Project Management
FootfallCam is fully equipped to manage and support large-scale projects. With many years of experience in working with large clients to deliver projects that cover multiple locations, FootfallCam can offer advice, guidance and strategy to ensure that all rollouts are a success.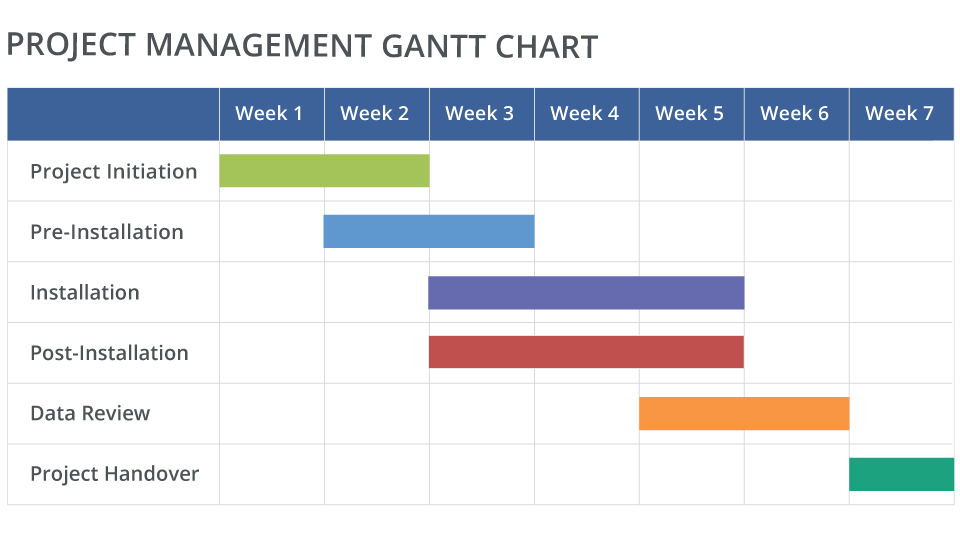 Technical Support
Support Service
Customers can rest assured that they can rely on FootfallCam to provide them with the support they need. Whether that be in recommending the right product and accessories, providing guidance during installation, or when something unexpected happens; FootfallCam's Global Helpdesk is available 24/7 via phone or email.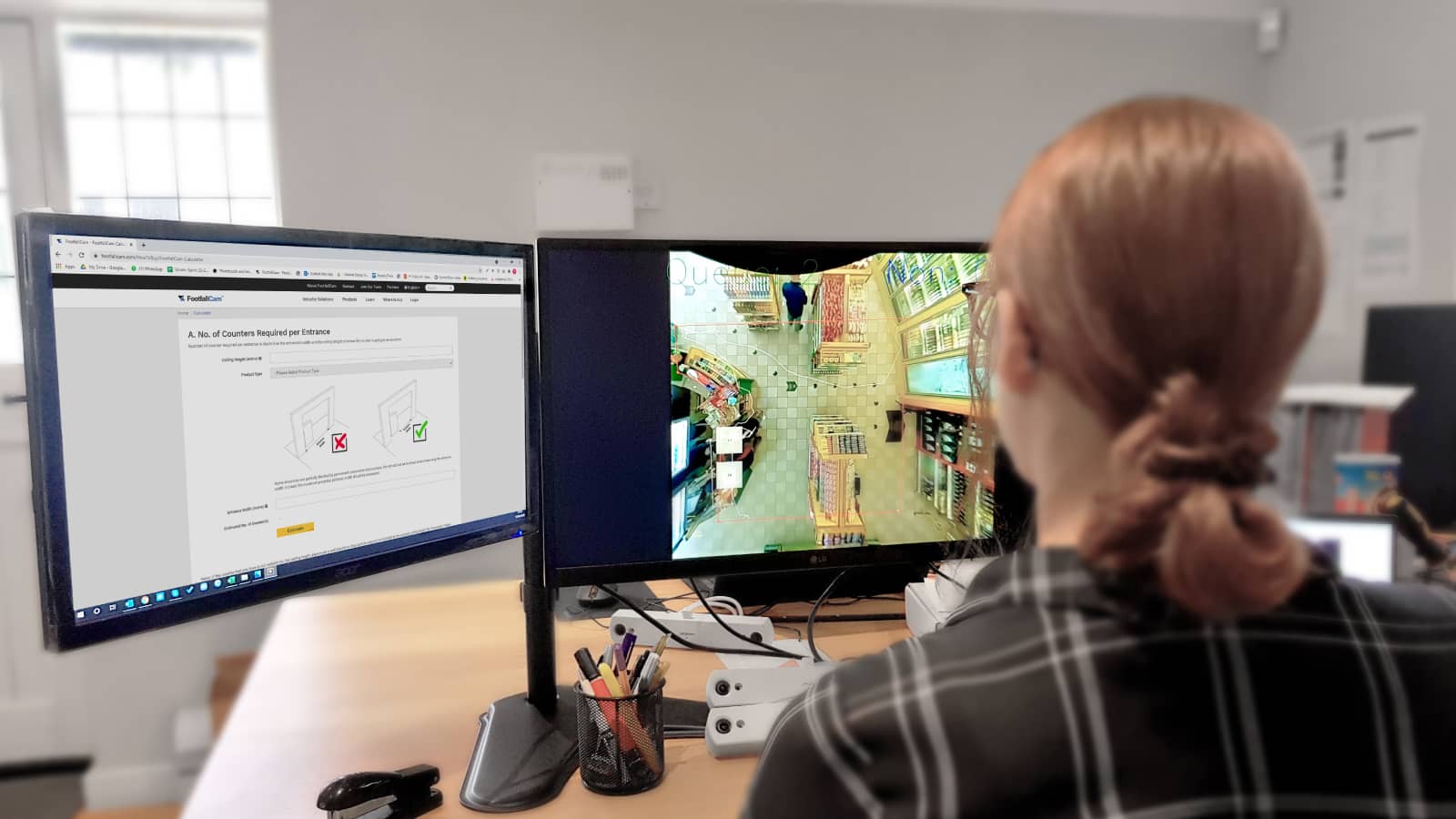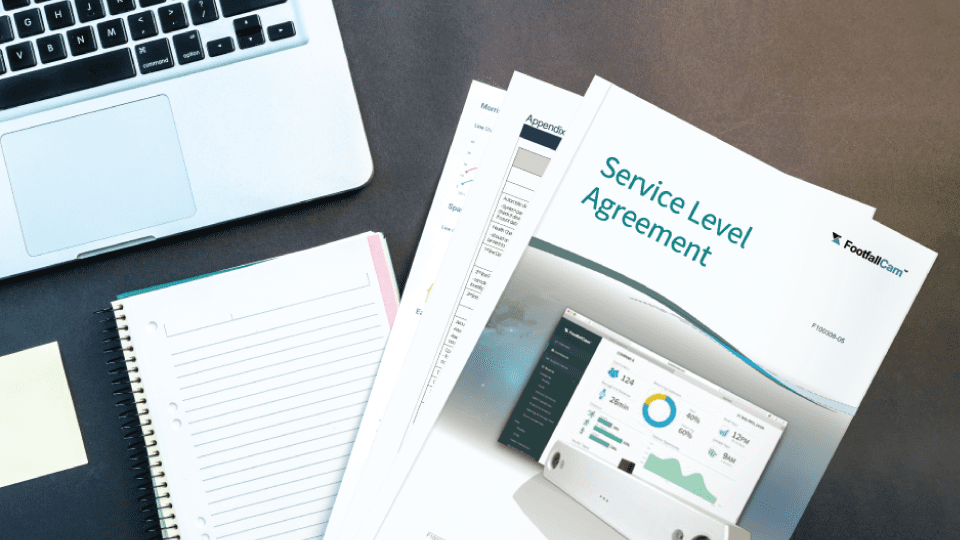 Support Contract
All customers are provided with a complimentary Installation Support Service during the initial implementation of hardware. Customers that would like support beyond installation can enrol in the FootfallCam Support Contract, for direct access to expert advice from the technicians.
Enquire Today
Heatmap counter | People counting | In store analysis
Gauge the popularity of different brands within the store to understand different customer segments across different product, so you can gauge consumer behaviour.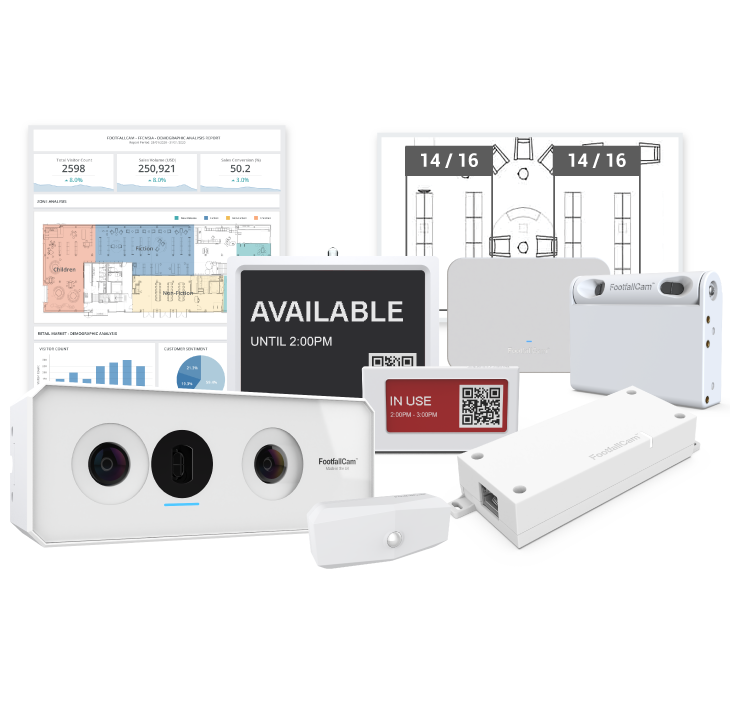 Back to Office Special
Key Features
SafeOccupancy™
Smart Washroom
Meeting Rooms
LIST OF EQUIPMENT

Hardware

FootfallCam 3D MAX™

USD 650

FootfallCam 3D Mini™

USD 95

Software

FootfallCam Analytics Manager V8™

FREE

Installation

FootfallCam Technician

Starting From

USD 389
LIST OF EQUIPMENT

Hardware

FootfallCam 3D MAX™

USD 650

FootfallCam 3D Mini™

USD 95

Software

FootfallCam Analytics Manager™

FREE

Installation

FootfallCam Technician

Starting From

USD 389
Brief Description
Equip your workplace with FootfallCam's Back To Office Special to keep your employees safe upon their return to work. This offer contains three FootfallCam System Packages to help manage social distancing and promote an agile workplace.
---
Space Occupancy Package

Package 1

Agile Office Package

Package 2

Speed of Service Package

Package 3

Features

SafeOccupancy™

Desk Booking

Meeting Room Booking

Smart Cafeteria

Smart Washroom

Facility Management

Hardware

FootfallCam 3D MAX™

FootfallCam 3D Mini™

LabelNest LN21™ / LN42™

FootfallCam Space Sense™

FootfallCam Depth Sense™

FootfallCam Smell Sense™

FootfallCam Dispensers™

FootfallCam Notifier™

Software

FootfallCam Analytics Manager™

FREE

FREE

FREE

Package Pricing

Estimate Total

Starting From

USD 1100

Starting From

USD 2358

Starting From

USD 2585
PaaS
Platform-as-a-service (PaaS) is offered by FootfallCam with the purchase of any hardware, providing customers with lifetime access to Analytics Manager V8.
Enquire today
Enquire today
Lease-Hire
For customers looking for a temporary people counting solution, FootfallCam offers the option to lease equipment for a fixed-term.
Enquire today
Enquire today
Flexible Payment Term
For large-scale projects and clients with specific payment terms, FootfallCam is flexible to work with your requirements.
Enquire today
Enquire today