People Counter | People Counting for Exhibitions | Occupancy Counting
FootfallCam people counter measures footfall and customer traffic in exhibitions. It counts the occupancy of your premises in real time.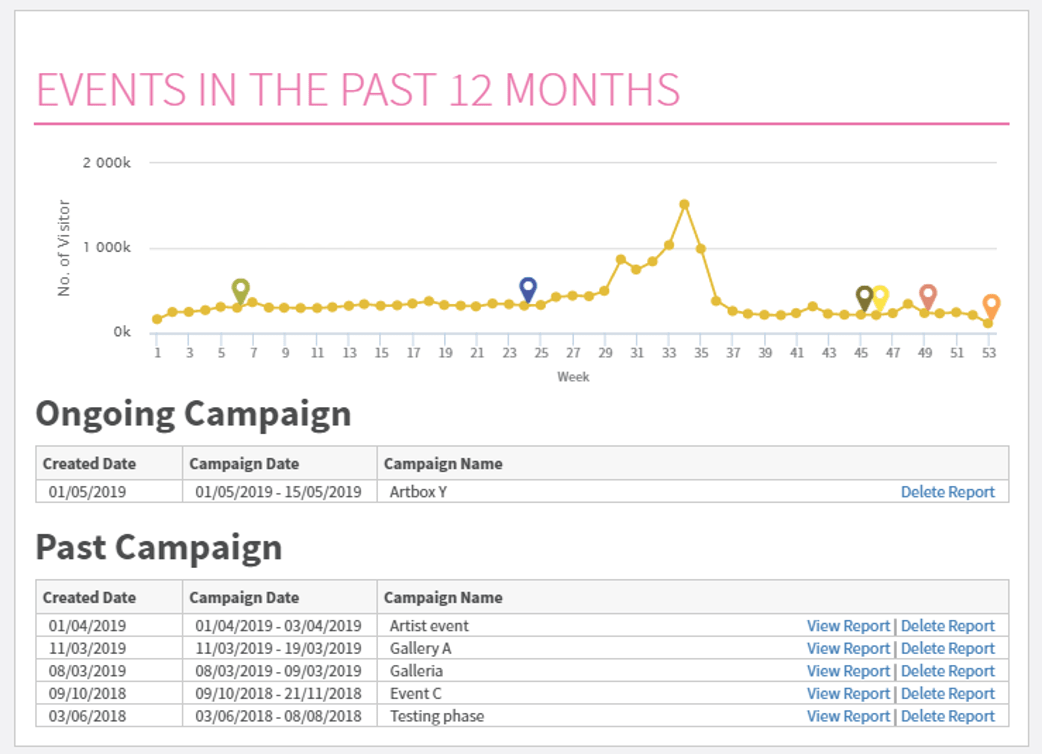 FootfallCam Occupancy Management System
Events and exhibitions are essential factors for businesses to make lasting impressions on stakeholders to present their products and services. With people counters installed throughout the exhibition hall, users will be able to understand if the trade fair and expo activities and efforts have made a positive return in terms of marketing investment and whether marketing efforts were sufficient for lead generation and cost effective networking.
Download Brochure
Download Product Information
People Counting Data for Events and Exhibitions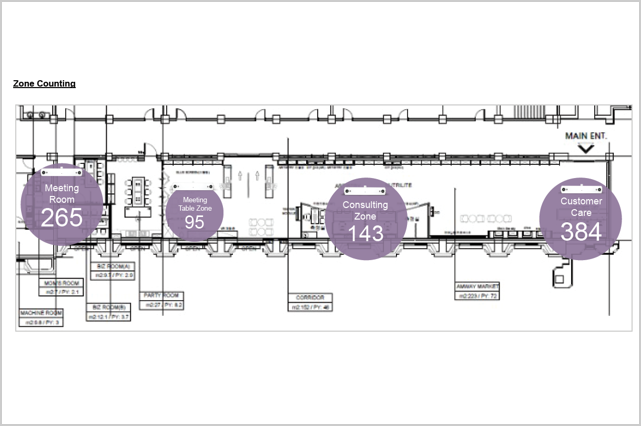 Popular Booth Detection
Discover the popular areas and booths that attracts the most number of visitors within your events and expos. With heatmap counting, users will be able to understand the reason behind the performance of successful area and apply the knowledge to other areas.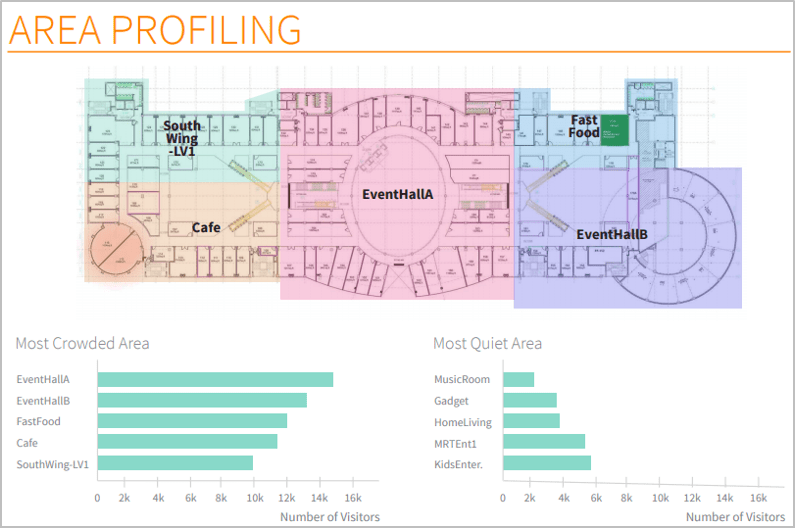 Real Time Traffic Report
Monitor the total number of visitors within the venue in real time and receive an alert when the venue is overcrowded. WIth real time visitor count that achieves 98% accuracy level, users will be able to identify visitors in each defined zone to understand traffic count.
Enterprise Software Suite
People Counter
Our people counter is engineered with accuracy, reliability and efficiency prioritised in every function of the device.
Know more about People Counter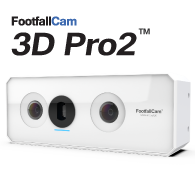 Software Suite
Our people counter software is a ready-made platform, designed with IT and business collaboration in mind.
Know more about Software Suite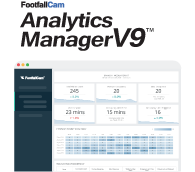 How To Buy From Us ?
FootfallCam work with a global network of reseller to offer local services to our customers, as well as support from us. We are more than happy to work with appointed contractors from retailers and guiding you on the dimensioning and commissioning of the system, and supporting your installation of the system.

Appointing your own contractor
End users can appoint their own contractor to deal with FootfallCam directly. FootfallCam can work alongside the contractor in designing and planning the installations, and supporting the installation remotely.

Buying from FootfallCam Authorised Reseller
End users may also purchase directly from FootfallCam authorised reseller for local support, alternatively you may contact FootfallCam directly and we will forward you to one of our trusted reseller in your area.
What is the accuracy level of Footfall data generated?
FootfallCam ensures that the accuracy level of our counter are at least 90% with video proof provided that the user applied for the verification service by FootfallCam.
Where will a user go to access their data captured by the FootfallCam?
It is web-based, you can access anytime at any PC/ mobile device with the given username and password. Of course the default password can be change for the security purpose.
Will the installation of FootfallCam require any form of electrical or technical expertise?
The installation is straightforward and simple. All that is needed on site will be the cable installation, requiring only 1x Cat5e cable from the IT router to the counter. Therefore, any local handyman or IT person will be able to install it.
Can the device be chained on the same Ethernet cable to reduce the number of PoE ports and to be able to install in wide entrances?
FootfallCam counters may be chained through cascade topology to reduce the number of PoE ports required.
Does FootfallCam comply with the latest General Data Protection Regulation (GDPR)?
We are compliant with the current privacy regulations and work towards further compliance and upholding of the privacy of individuals. Under the GDPR regulations introduced in 2016 and implemented on May of 2018, there are several exceptions that applies to responsible manner of handling the data, such as anonymisation.
Recital 26 of the GDRP dictates that the regulation applies to information concerning an identifiable person. Information that is rendered anonymous and untraceable through irreversible pseudonymisation and unidentifiable to the person are not covered by this regulation. Furthermore, anonymous information processing such as for statistical purpose are too not liable for regulation by GDPR, which is the usage of FootfallCam.
In Chapter 2, Article 6, Clause 4-e; Chapter 4, Article 25; and Chapter 4, Article 32, Clause 1-a highlights the compliance with the regulation through irreversible pseudonymisation and encryption of the data, such as through data minimisation.
More Videos
Exhibition occupancy | People counters in exhibition halls
FootfallCam customer traffic counter counts the number of visitors that enter exhibition premises to track marketing effectiveness.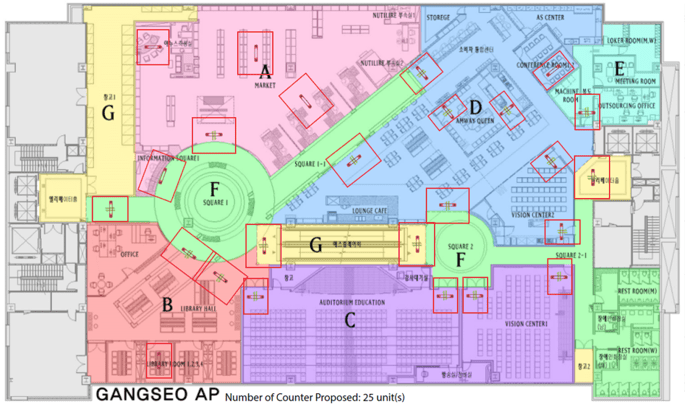 Occupancy Counter
Quantify the total number of visitors that enter the exhibition site regardless of which entrance they use. By installing FootfallCam at every, users will be able to gauge the total number of visitors that visit the compound. So businesses and promoters in the exhibitions can evaluate if their marketing efforts are reaching a satisfactory level of audience along with lead generation opportunities.
Door Counting - Stereoscopic vision counting to track the number of visitors that enter and exits the exhibition hall.
Watch Video
Solution Overview
Real Time Traffic Visibility - Count the number of people entering and exiting your premise in real time with 98% accuracy, then compare weekend traffic with weekdays or of previous time to visualise visitor trend.
Identify Peak Hours - Discover your power hours in which your premise generates the most traffic and manage security personnel required during these time accordingly.
Total Exhibition Occupancy - Monitor the total number of visitors in the area in real time and get an alert when the venue is overcrowded.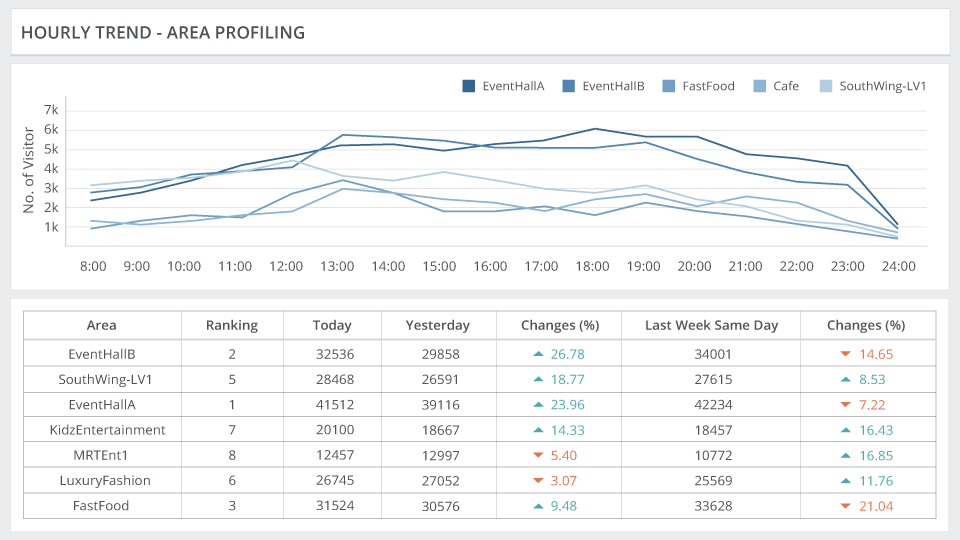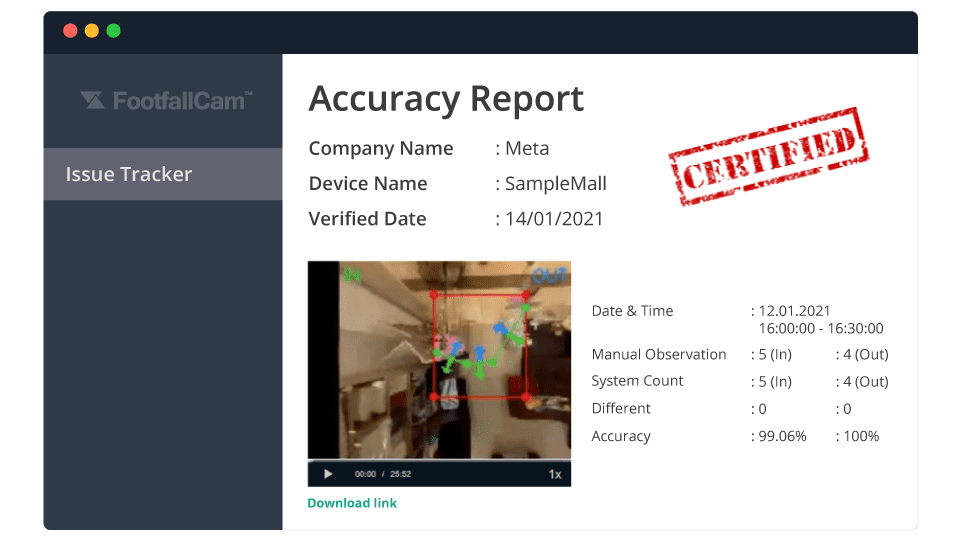 Why FootfallCam ?
Accurate - With 3D stereo vision counting, FootfallCam people counting solution can ensure accuracy of 98% with video proof. Thus, enabling you to make data driven decisions with reassurance.
Cost Effective - With competitively priced support contract and extended warranty, our people counter offers the lowest total cost of ownership across the industry.
Easy to Install - Simplified installation process that only requires one cable, anyone without technical expertise will be able to install the device without any issue.
Traffic flow in exhibition halls | People counting sensors
FootfallCam customer traffic counter continuously track the visitor and to profile the visitor journey throughout the expo area.

Traffic Flow Visualisation
Understand the distribution of visitors throughout the exhibition site to understand how the space is utilised and to provide evidence for promoters and event managers to understand their number of opportunities they have with the popularity of the exhibition. With this information, users will be able to optimise staff allocation in accordance to the number of visitors and their needs within the event or expo area during power hours.
Area Counting - Track the movement of visitors between corridors to quantify number of visitors in each area.
Traffic Flow - In depth analysis of engagement to various booths and stalls throughout the exhibition area.
Solution Overview
Traffic Flow Tracking - Continuously track the visitor and determine the path of visitors after leaving each zone to profile the visitor journey throughout the expo area.
Heatmap Visualisation - Showcases where visitors go after visiting a promotional event, to offer objective evidence on retail opportunities available to retail tenants.
Evaluate Effectiveness of Campaigns - Visibility into the performance of each marketing event and different media channels used in different areas across your expos and booth.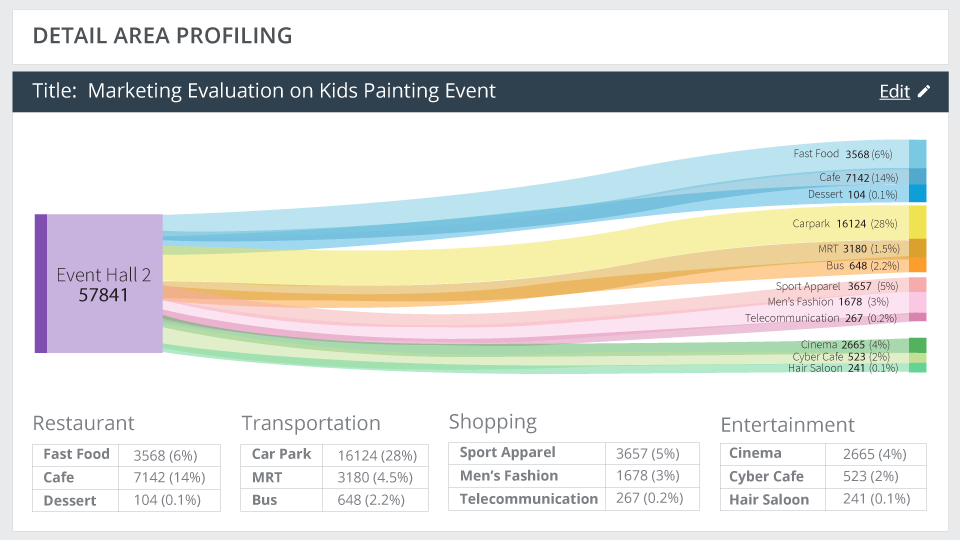 Why FootfallCam ?
Reliable - With high grade components used in the hardware, FootfallCam have a mean time between failure of 25 years, allowing us to offer extended warranty on our products upward to 5 additional years.
Easy Implementation - Integrate with minimal effort to any sized shopping malls by reusing existing infrastructure from previous people counter or security camera systems.
Easy to Dismantle and Relocate - With only one cable to power the counter, relocation is hassle free. In conjunction to our around the clock support, installing has never been easier.